Disclaimer: All words written here are my own. Nobody (not even Travelicious) persuaded me to write in this manner. I am just telling my firsthand experience with the site to hopefully clarify all doubts and whatnots about it.
See Also:
So I wrote the first part of the Travelicious series (and you can read it over here in case you are interested). So now that you know I took the bait, are you also wondering what happened next or my personal experiences with Travelicious? If yes, then read on.
I thought about the entire thing for a couple of days and then, I went on with the application. The "How To" guide by Travelicious is quite detailed but I think it needs to be updated to be a bit more precise. Unfortunately for me, I had to contact GoDaddy Customer Service (they were absolutely fantastic, by the way) to help me. For those of you are wondering what was the boo-boo, I made a mistake in choosing which plan to buy. The guide indicated I only needed to spend $12 but the GoDaddy site kept on displaying more than the amount. Not sure if it was because of the conversion or taxes but that made me a bit confused which to pick. And for a noob like me who "forgot" that a domain AND hosting are different things, then that's where the problem was. LOL!
After I bought the domain (total cost was A$15.01), I created the basic website and submitted the URL for review from Travelicious. They were quite fast because the next day, I received an email indicating that my travel website is approved and I can write the article to receive the promised A$40. (Note: You need to write the article in Travelicious' platform and NOT your blog to get paid).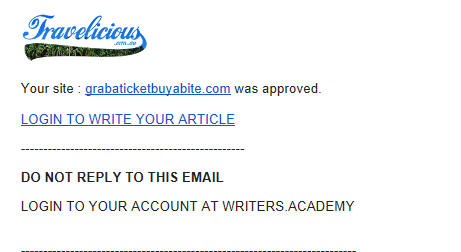 Note that before I went through this brouhaha, I had my article ready. So it only took me to do a copy-paste and a bit of reformatting so I can submit. And then, the waiting began.
Which didn't take too long. The next day, I was surprised to receive an email from Travelicious that my article was approved. But no signs of Paypal transfer yet. Was I scammed?!
Nope, I wasn't. Around midday, I received an email notification from Paypal that I received the promised A$40. Here is the email I received as proof.
I also captured a screenshot of my actual Paypal page so you can see it has a balance of A$40. Also, here are the details of the GoDaddy domain and web hosting purchase I did as part of the application.
To cut the chase, yes, Travelicious pays for the first article you submit (it paid me). But you have to take the risk first by buying a domain. I can't guarantee it will pay YOU should you take the plunge like me (or whether you'll get future writing assignments, I am not even sure for myself), but I am just merely sharing the experience I had with the site so far. So now, it's up to you what to do knowing that Travelicious does pay and you CAN STILL earn from it even if you spent money on the domain.