World War 2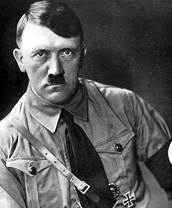 The origins of the Second World War are generally viewed as being traced back to the First World War (1914-1918). In that war Germany under the ultra-nationalistic Kaiser Wilhelm II along with its allies, had been defeated by a combination of the United Kingdom, United States, France, Russia and others.
The war was directly blamed by the victors on the miltant nationalism of the Kaiser's Germany; it was Germany that effectively started the war with an attack on France through Belgium.
France, which had suffered a previous defeat at the hands of Prussia (a state that merged one year later with others to form Germany) in the Franco-Prussian War in 1870, demanded revenge for its financial devastation during the First World War (and its humiliation in the earlier war) ensured that the various peace treaties, specifically the Treaty of Versailles imposed tough financial reparations and restrictions on Germany.
A New Republic
A new democratic German republic, known as the Weimar Republic, came into being. After some success it was hit by hyperinflation and other serious economic problems.
Right wing nationalist elements under a variety of movements, but most notably the Nazi Party of Adolf Hitler, sought to blame Germany's "humiliating" status on the harshness of the post-war settlement, on the weakness of democratic government, and on the Jews, whom it claimed possessed a financial stranglehold on Germany.
Hitler was appointed Reichskanzler (Chancellor) on January 30, 1933, by the aged President von Hindenburg.
Hitler's government exercised much of its power through the special emergency powers possessed by the President under the constitution.
For almost six years from 1939 to 1945 Britain fought the toughest war it had ever experienced. World War II was total war – every person, every business, every service was involved.
Britain did not fight alone, the war also involved many countries. World War II involved 61 countries with 1.7 billion people (three quarters of the world's population).
Fifty million people lost their lives and hundreds of millions people were injured.
How did the Second World War start?
After World War One ended in 1918, Germany had to give up land and was banned from having armed forces.
In 1933 the German people voted for a leader named Adolf Hitler, who led a political party in Germany called the National Socialists or Nazis. Hitler promised to make his country great again and quickly began to arm Germany again and to seize land from other countries.
Shortly before 5am on Friday 1st September, 1939, German forces stormed the Polish frontier. Tanks and motorised troops raced into the country over ground, supported by Stuka dive bombers overhead. A total of 1.25 million Germans soldiers swept into Poland
When did World War Two begin?
World War Two in Europe began on 3rd September 1939, when the Prime Minister of Britain, Neville Chamberlain, declared war on Germany. It involved many of the world's countries.
Click on the play button below to hear Chamberlain's speech (now the full speech)