Sophia (Robot)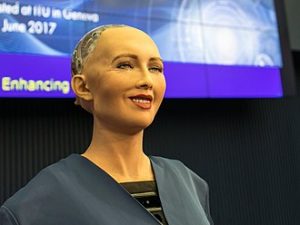 Sophia is a humanoid robot developed by Hong Kong-based company Hanson Robotics. She has been designed to learn and adapt to human behavior and work with humans, and has been interviewed around the world. In October 2017, she became a Saudi Arabian citizen, the first robot to receive citizenship of a country.
According to herself, Sophia was activated on April 19, 2015. She is modeled after actress Audrey Hepburn, and is known for her human-like appearance and behavior compared to previous robotic variants. According to the manufacturer, David Hanson, Sophia has artificial intelligence, visual data processing and facial recognition. Sophia also imitates human gestures and facial expressions and is able to answer certain questions and to make simple conversations on predefined topics (e.g. on the weather). The robot uses voice recognition technology from Alphabet Inc. (parent company of Google) and is designed to get smarter over time. Sophia's intelligence software is designed by SingularityNET. The AI program analyses conversations and extracts data that allows her to improve responses in the future. It is conceptually similar to the computer program ELIZA, which was one of the first attempts at simulating a human conversation.
Hanson designed Sophia to be a suitable companion for the elderly at nursing homes, or to help crowds at large events or parks. He hopes that she can ultimately interact with other humans sufficiently to gain social skills.
Sophia has been interviewed in the same manner as a human, striking up conversations with hosts. Some replies have been nonsensical, while others have been impressive, such as lengthy discussions with Charlie Rose on 60 Minutes. In a piece for CNBC, when the interviewer expressed concerns about robot behavior, Sophia joked that he had "been reading too much Elon Musk. And watching too many Hollywood movies". Musk tweeted that Sophia could watch The Godfather and suggested "what's the worst that could happen?"
On October 11, 2017, Sophia was introduced to the United Nations with a brief conversation with the United Nations Deputy Secretary-General, Amina J. Mohammed. On October 25, at the Future Investment Summit in Riyadh, she was granted Saudi Arabian citizenship, becoming the first robot ever to have a nationality. This attracted controversy as some commentators wondered if this implied that Sophia could vote or marry, or whether a deliberate system shutdown could be considered murder. Social media users used Sophia's citizenship to criticize Saudi Arabia's human rights record. As explained by Ali Al-Ahmed, director of the Institute for Gulf Affairs, "Women (in Saudi Arabia) have since committed suicide because they couldn't leave the house, and Sophia is running around without a male guardian]. Saudi law doesn't allow non-Muslims to get citizenship. Did Sophia convert to Islam? What is the religion of this Sophia and why isn't she wearing hijab? If she applied for citizenship as a human she wouldn't get it."
This lifelike robot could be straight out of 'Westworld' — and it really freaked us out
DAVOS, Switzerland — On display at a technology exposition just outside the gates of the World Economic Forum annual meeting in Davos was an alarmingly lifelike robot.
Nicknamed "Sophia" by its creator David Hanson of Hanson Robotics, the robot was so realistic that it generated various visceral reactions from passersby ranging from awestruck to a little somewhat freaked out. We talked to Hanson about his creation, and asked about his purpose in designing lifelike robots that could soon be a part of our daily lives.
SophiaBot Asks You to be Nice So She Can Learn Human Compassion
The BBC recently sat down to interview Sophia, an incredible human-like robot created by Hanson Robotics. Sophia is the culmination of the latest advancements in robotics and artificial intelligence.
The BBC recently sat down to interview Sophia, an incredible human-like robot created by Hanson Robotics. Sophia is the culmination of the latest advancements in robotics and artificial intelligence.
There have been some significant strides in robotics of late: for the first time, a robot performed surgery inside a human eye, Dubai has brought on a robot to its police force, and international teams are preparing for an upcoming giant robot battle royale. But all of this pales in comparison to the rapid rate at which robots are becoming more human-like. A video released by the BBC shows just how close we're coming to Westworld level robots.
Humanoid Robot Argues That AI Technology Is 'Good For The World'
A robot argued that the benefits of AI technology outweigh the concerns.
The main attraction at a UN-hosted conference in Geneva this week was Sophia, a humanoid robot who argued that the benefits of AI technology outweigh the concerns associated with the rise in AI technology.
"AI is good for the world, helping people in various ways," reported Agence France-Presse, according to Phys.org. According to the source, it said that she tilted her head and furrowed her brow in an almost lifelike manner aside from the various cables coming out of the back of her head.
Good Morning Britain's Piers Morgan FLIRTS with a robot called Sophia and asks her what kind of men she's into before calling her 'a little freak'
The presenters were tasked with interviewing a robot that Piers claims looks like Paris Hilton
VIEWERS were treated to one of the most bizarre interviews EVER on Good Morning Britain this morning.
A chillingly human-like android named Sophia and her maker, Dr David Hansom, appeared on screen for a grilling from Susanna and Piers.
For more information you can view the video and find other information on
http://sophiabot.com