Fashion designer Marc Jacobs has got engaged to his boyfriend Charly DeFrancesco after proposing in a Mexican fast-food restaurant.
He got down on one knee in a New York branch of Chipotle after a flashmob, apparently organised by Jacobs, danced to Prince's song Kiss.
In an Instagram video posted by Jacobs, candlemaker Charly is then seen nodding "yes" as the dancers cheer.
The couple are then seen kissing and hugging.
While they took over much of the restaurant, diners are also seen continuing to eat their food as the serving staff dance to the music.
Jacobs posted the video after the proposal on Wednesday – DeFrancesco's birthday.
He wrote in the accompanying message: "And this happened…'Charly Defrancesco will you marry me?' #flashmobatchipotle #moves.
"Thank you everyone for making this happen. And to my Ride or Die fiance I love you."
He had earlier posted a message wishing DeFrancesco a happy birthday, describing him as the love of his life.
In his own post, DeFrancesco – who's seen in the clip filming the flashmob on his phone – wrote: "Get ready for the all-time gag!"
Jacobs isn't the first celebrity to stage an unusual proposal: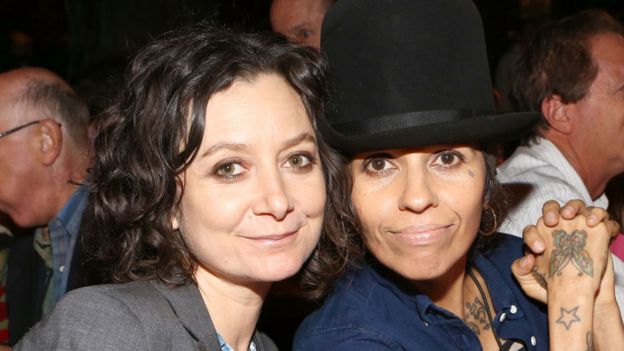 Roseanne star Sara Gilbert was proposed to by singer Linda Perry (above) during a picnic in a Los Angeles park – in which Perry sang The Cure's Love Song, backed by a band, before putting on a series of T-shirts bearing one word each. The message they made was: "Will you marry me?"
Not known for doing things by halves, Kanye West hired out San Francisco's AT&T Park, booked a live orchestra and proposed via a message on the big screen when he popped the question to Kim Kardashian
How I Met Your Mother's Neil Patrick Harris was surprised when partner David Burtka stopped the limousine they were travelling in – in order to propose on the street corner where they had met
Pink was watching her other half, motocross champion Carey Hart, racing when she reportedly wrote "will you marry me?" on a pit board, holding it up in front of the grandstands on his third lap. Slightly distracting, perhaps – but he said yes
Seal proposed to Heidi Klum in an igloo in the Canadian Rockies. Inside was a bed with sheets, rose petals and (perhaps unwisely, given it was an igloo) candles. She said yes, but the pair later split