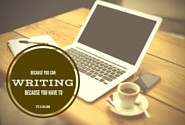 Writing for the Web
Trying this again!
A place to discuss writing online – blogging, content writing, paid to write sites, etc. Come talk about the art of writing for the web, about how web writing differs from writing for print, or about great resources for web writers! Topics could include related concepts like SEO, promotion and social media, and graphics for your posts.
Making Graphics for Your Posts
Author
Posts

@peachpurple I tried to comment earlier, but I am having trouble today with that. I keep getting error messages that say, "Are you sure you want to do that?"

Who, me? What, send Peachy a comment about cameras? Yes! Yes, I'm sure…..

Anyway, I was just trying to say that I had similar issues with batteries and digital cameras. I like the devices that come with their own rechargeable battery. They seem to be most reliable.
You must be logged in to reply to this topic.