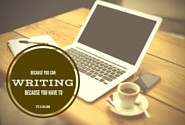 Writing for the Web
Trying this again!
A place to discuss writing online – blogging, content writing, paid to write sites, etc. Come talk about the art of writing for the web, about how web writing differs from writing for print, or about great resources for web writers! Topics could include related concepts like SEO, promotion and social media, and graphics for your posts.
Making Graphics for Your Posts
Author
Posts

How many of you make (or adapt) graphics for your articles and posts? If you do make graphics, what tools do you use?

I create some images simply by taking a photo with my phone. But I also like to play around with graphics editors. I use two right now. On my computer, I have GIMP installed. It's similar to Photoshop, but free.

When I want to play with something that's a little more "drag and drop," I use a web-based graphic editor called Canva. It's free, but you have to be careful not to use any of their "premium" elements in your graphic. They charge $1 each for using their pay elements. I just use my own elements, or things that are public domain.

Do you have a favourite tool for making graphics?

I just started to create a graphic for my blog posts after reading your posts in BlogJob. Thanks for the guide and inspiration too. I just use Paint to make a simple picture file, add in an image downloaded from pixabay most of the time, and add in my own words (mainly the title of the blog post). I wanted to use GIMP, and found out I have uninstalled it from my computer.

I just read about Canva lately but have not try it yet. I also just read about Pablo by Buffer. I used Pablo a few times, and I think it's easy to use too.

I have not done this yet. I have just used pictures from Pixaby or my own if I have one that works for  my topic. This sounds interesting though and fun. I am going to check out Gimp and see if I am talented enough to use it. Lol. I am not very technically inclined so hopefully it is easy enough for me. I will also have to read some more of your articles on Blogjob to get more of an idea on doing this type of thing.

I usually use my own photos, and when I am stressed out, I like to play with them in Pixlr and PicMonkey. I also have Photoscape installed on my laptop for quick fun or just to watermark my photos.

With these three editors, I don't need to know much about photoshop. I just create my own images and chose colors that match my mood at the moment, lol. I am not technical either and all the jargons gave me a headache.

My only resort when it comes to image is using Pixabay, once I do not have an available good image that I was the one who take. There are lots of pictures at Pixabay and it is all for free. Sometimes I create my own image, like I will go to Pixabay, I will edit it, make it look right for my posts. Sometimes the picture came from me, specifically if the post is about a review of products. I snap a picture of a product I used and more on reviewing it after I tried it out. The only pictures I only depend on when it comes to blog is Pixabay, nothing else and I avoid getting pictures from Shutterstock as I will be able to get sued by doing that, on some of the pictures that there is a name shutterstock on it. Just for the sake of information and experience.

I love Pixabay for the photos on my blog at least for now. They do have a wide selection and it is easy to find what you are looking for just by using the search on the site. Some of the photos are very good and I find it hard to believe that they are for free. Well unless you want to buy the person who did the photo a cup of coffee. Has anyone ever done that? I always wonder when I see it how much a cup of coffee is. I think it is a nice feature though since someone did a lot of work to create the picture we get to use for free.

There are so many things I want to learn and there does not seem to be the time in the day to do anything.

@kaka135 I haven't heard about Pablo until now. I'll have to add it to my list of graphics editors to try!

@morgoodie Just a heads up: GIMP can be a little intimidating at first! I knew how to use PSP quite well, but was really lost with GIMP at first. If you're stuck on anything, there are some great YouTube tutorials and all the user's manual how-to stuff is online. So just Google whatever it is you're trying to do, and you'll find lots of good info 🙂

As for buying the Pixabay artists a coffee, I've yet to try. But I think you just put in whatever amount you want to give.

@icybc I haven't tried any of the three apps you mention, but PicMonkey is on my list for next one to test out. Do you use different apps for specific tasks, or just open whatever you feel like using at the time?

@ruby3881 Have you checked out Buffer? I came across a blog post from Buffer about the ideal image size for social media sites, and Buffer is actually a product that helps us to schedule to share our posts on social media sites. There is a free version, but I have not try it out yet. I just tried Pablo, it's just a simple tool to create social media images, simpler than Canva to me, but of course less functionalities. If you just want to create a quick image for the post, perhaps Pablo is a good tool for it.

This is their social media blog: https://blog.bufferapp.com/

I didn't know PhotoShop, but I learned to use GIMP for simple image creation for web design. It took me some time to learn, but it's really a good tool. There are a lot of online tutorials for GIMP. But, I am really not a design person, I'd go for those simple image editing tool. 😀

@grecy095 @morgoodie I used to just upload images from Pixabay or my own photos, but after reading ruby's posts, I found it nice to have some words especially when we share the posts in social media sites. That's why I started to create images for the posts, just a very simple one. You can try out Pablo. You just need to choose an image, add text, and that's it, but not many functionalities there.

@LeeKa  Once again you are bringing the news about something useful. You must be wonder woman. LOL This sounds great and I love simple to start out with. It helps to build my confidence that something is not as hard as I like to think everything is. I am going to check it out right now and see what will inspire me. Sometimes, finding a picture will inspire me to write a post and then I will get that done. I am such a procrastinator. But I will try hard and get it done. Thanks for the tip on the Pablo site.

I used Adobe PhotoShop to edit images – mostly for my own picture to give some effect or create header and signature.

While for the images that i get from other site, i use PhotoScape especially to add frame on the image so it will lighten  up my blog post. This apps is so easy to used and have several photo editing features.

But, I prefer to used html coding to give extra formating to my blog 🙂

@kaka135 I saw that one on your blog posts. Yes, I would love to do that as well when I able to write a blog post in here and soon on Blogjob.

@morgoodie I am not a wonder woman, but it's just that I think I have spent too much time online. 😀
I am a procrastinator too, or I am easily being distracted, it's just that sometimes when I find something interesting, I will just go and find out more about it. But, of course, I can't let myself wander around for too long, as I still have lots of work to do here. 😀

@haraka Good that you know how to use PhotoShop. I thought of learning how to use it for many years, but eventually I just gave up. I am just not into graphics design, so I prefer to spend time to learn something else. I prefer coding to designing. 🙂

@grecy095 I think I just do not really enjoy graphics design so much, so I prefer something really simple and can help to make what I want. Moreover, it's quick to get what we want done, so we won't need to spend too much time there.

@kaka135  Ok maybe you are not wonder woman but pretty close. LOL  I need to start making a list of all the things I would like to learn and just start at the top and work my way down. My list would probably just keep growing though and I would never make it to the end. But I love learning all the time though and I think this is a good way to keep our brains active and to keep us young.

I have yet to even make a graphic for my blog, but I will one day. I just seem too consumed by other things at the moment and cannot find the time to sit down and concentrate on it. But I will, maybe after we move and I do not have as much on my mind.

@morgoodie It's a good idea to have such list. I am sure mine will be a long list, especially those I really NEED to learn and teach my children, and there are more for myself too. 😀

Just try Pablo first. It's really very simple and quick. You just need to search for an image and add text. That's it. That's why I am using this tool now, as I don't want to spend too much time on the image at the moment. There are more things to do. 😀

I will try the Pablo you are saying @kaka135 when I came to read I thought you mentioned a person's name but it seems it is like some Photo editing, thanks for sharing. I know you have lots of things to do and I am glad you are sharing your life to us. For me, since I am busy too, I will use images from Pixabay as of the moment, no time for editing right now.
You must be logged in to reply to this topic.