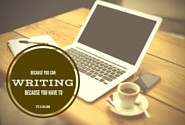 Writing for the Web
Trying this again!
A place to discuss writing online – blogging, content writing, paid to write sites, etc. Come talk about the art of writing for the web, about how web writing differs from writing for print, or about great resources for web writers! Topics could include related concepts like SEO, promotion and social media, and graphics for your posts.
Making Graphics for Your Posts
Author
Posts

I finally downloaded Gimp and have been trying to find my way around there. But I was able to put text onto the picture I have downloaded from Pixabay. It has been a little frustrating and it takes me what seems like forever to make them but I have been having fun. I need more practice with Gimp and I had to export it to a jpg file. This was a first for me. I am learning so much and having fun doing it.

@morgoodie We all have a long list of things we want to get around to, I suspect! I think it's important to give ourselves permission to just learn a little at a time, though. We don't need full mastery of each skill before we explore the next item on the list.

@kaka135 Would you believe it was coding that led me to play with graphic design? I had been taking courses in HTML and CSS at the old WebtechU, and I even began to teach the courses myself after a while. When I was doing courses on things like using tables to create beautiful web layouts with layered graphics, I realized it would be fun to learn how to make those graphics too.

Webtech offered some courses in basic skills for PSP, so I took them. Then I started looking for tutorials, and I began to make all kinds of cool graphics. I was hooked!

@morgoodie There are a ton of video tuts for GIMP. If you're ever stuck, just Google what you want to do. I find it's a little tricky to get just the right tutorial, but it's so easy to do things once you see someone else doing it!

I have only been putting text on the pictures, but now that I have done 3 pics it is getting much easier. I am sure that once I get in there and play a bit I will get the hang of it. There is just so much that you can do and it is somewhat confusing at first. Tutorials would be good if I would just set the time to do them. Sometimes, I have to just dig in and get my hands dirty.  I like doing it though and maybe once I get done with my deadline that I created for myself here I will do more trying to make my own pictures with text.  I am amazed at how much I am learning which I love to do.

I only use images from pixabay and from free photos from seraph engine. Actually, I prefer to have no images at all.It seems there is no correlation.

Sometimes we need to try and create to get the actual result.Each site that I ventured into, I noticed they have different platforms, I keep on always adjusting myself.I have to study their platforms until finally understand them. Like in this site, I need some adjustments though it is synonymous to Blogjob.

@morgoodie Watch out! The graphics bug is addictive! Once you learn to add text, you'll be wanting to use the eyedropper tool to sample colours from the image in order to pull out a colour from the image itself when adding the text. Or adding an extra layer with a box that can be placed under the text to increase contrast and improve readability. Or heading to the free fonts sites to download new fonts to play with.

GIMP  is a gateway into a whole world of graphics addiction!

@lovern Adding an image to your text, especially a unique image that suggests some aspect of the article itself, can increase your SEO value and can significantly boost the number of both internal and external readers who will click on your link. It takes a bit of time and skill to select the right image, and to crop or add text, or even create a collage or other derivative work. But doing this can add more value to your writing. This is the same across all writing and blogging sites, and across all the web too.

gee you guys sound so professional artists!

I have not use any of those graphic sites that you guys had mentioned.

I use my own photos, taken from my smartphone, I don't edit them.

I also use pixabay images which are free to use and suitable for my post title too.

I had just registered Canva and looking at Pablo now.

I won't be installing at software into my laptop because it is very cramp now.

Thanks everyone for your suggestions, this forum is very helpful to us

@ruby3881  Oh no you told me other things to do on there!! Lol  I do tend to get addicted to new things so I will have to be careful. I have not tried too much other than the text. I do not know that much about graphics or what the tools do so that should be interesting to learn how to do on there. I will have to learn the eyedropper so that I can pull a color from the image to use when writing the text. I play around with different colors to see which ones are easiest to read and look nice. Sometimes, it is hard to choose because of the background can have too many different colors or objects to make the text hard to read in certain colors.

@peachpuple  I am just learning all this stuff too. I like your pictures that you have of your food on your posts and think they are good. I like being able to put the text on the pictures I use since it makes it look better to me. I have not tried Canva or Pablo yet but they are on my list. Do you like using Canva?

@morgoodie I knew you were the type to get excited about a new tool, and to become very involved with it!

If your text isn't showing up against the background, be sure it's on a separate layer from the image. You can fade the background, if this is appropriate. Or you can add a third layer between text and background. Draw a box just about the size of the text, and fill it with a colour that contrasts with your text. This can also be faded, to allow more of your image to show through.

Oh my gosh!! I did not know this. I was not completely sure what the layers were for but now I will have something to play around with. I get involved in this type of thing and I can be lost forever. My children may become orphans. Haha  Okay, I will not go that far, but I do love to learn new things like this. It is fun. I like to be creative so this is a good way to do that. Thanks for the tip @ruby3881

@peachpurple I always love your food photos! You're just using your camera on your phone for that? I was sure you had a fancy digital camera!

Your photos are really gorgeous. They look like they were taken by a professional food photographer. I don't think they need much editing, but I know a lot of food bloggers like to sort of frame their images and add text. This is especially effective for the ones you want the reader to share on Pinterest.

Now that the issue with inline images is resolved, you'll notice I have started to add long images in my posts again. They are 735 x 1,102 pixels, the optimal size for Pinterest. Since most of the images I want to use are wider than tall, I like to use a collage for Pinterest (PicMonkey is awesome for this, and you can even do it without registering for an account!) I also sometimes just put the photo in the middle with text above and below, or at the bottom with text and other graphic elements like a sticker that says, "Pin me!"

There is a lot of room for creativity. I'm sure you can do beautiful things with a graphics editor 😀

I tried to register under my Googleplus account but not approve, so I don't know Canva site, how to use it yet.

I had seen Pablo, very simple to use site, I will try my hands on it today.

Thanks for your compliments.

I use my smartphone to take food photos.

I don't own a digital camera.

All my photos are smartphone shots.

The megapixels are high, so picture came out just nice but too high, 2MB, that LB couldn't accept

yes, I use my smartphone camera for all the photos taken.

In the past I used to have a Canon digital camera but it sucked up too many power consumption that the battery worn out very quickly.

Press once,the battery is dead. Energizer battery, the best in our country still couldn't beat the 1st button.

Went to the Canon service center, they can't rectify the problem.

So, I don't use it anymore.

I will try PicMonkey. I love your photos
You must be logged in to reply to this topic.