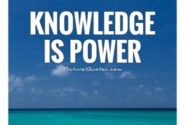 Knowledge Is Power Use...
The group is dedicated to like minded friends who would like to discuss any topic which will help us have a healthy debate and discussion and help us in becoming better human beings. Please go through the details and understand the same well before joining the group as joining the group means agreeing to the same. The knowledge thus obtained can be used for the betterment of humanity and help us in turning out to be individuals working for a common good and a better world. Respect and tolerance for others opinion and views is a basic requirement in this process members would also not make any negative comments, character defamation and use abusive language and indulge in deviant behaviour. Whoever would want to join or comment in the group would not misuse the group and stray from its objective and would not indulge in any legal cases, arbitration, suits, claim damages and the like. Topics will usually start with a write up article.
Business Personality: Dhirubhai Ambani
Author
Posts

Dhirajlal Hirachand Ambani(Dhirubhai Ambani) was born on 28 December 1932, at Chorwad, Junagadh (now the state of Gujarat, India) to Hirachand Gordhanbhai Ambani and Jamnaben. His wife's name is Kokilaben Ambani. Dhirajlal Hirachand Ambani was the  son of a school teacher in a remote village in rural Gujarat. He showed entrepreneurial skills from a young age onward. He started working as Petrol Pump Attendant has set-up World's Biggest Oil Refinery. Acclaimed as the top businessman of the 20th century and lauded for his dynamic, pioneering and innovative genius he was an inspiring leader with sterling qualities. It was under his visionary leadership the Reliance Group emerged as the largest business   He was an Indian entrepreneur who founded Reliance Industries Limited and made it one the largest private sector companies in India. It was  Indian business to feature in the Forbes 500  list. The story of Reliance Industries (RIL) is almost folklore in India.  Few men in history have made as dramatic a contribution to their country's economic fortunes as did the founder of Reliance.

He passed away on 06th July 2002 in Mumbai. After his death, the colossal corporate group was split into Reliance Industries, headed by Mukesh Ambani and Reliance Anil Dhirubhai Ambani Group (ADAG) He is survived by two sons and daughters. He has been conferred the Padma Vibhushan award posthumously for his contribution to trade and business. Many educational institutions, social work, aid, charity, giving a helping hand to the underpriveleged in  training and employment and educational scholarship programmes are being run by  different units of Reliance foundation groups.

He is really a sterling personality who showed to the people anything can be achieved by proper planning and hard work. He is the legendary Hero for India. He is the man who never took rest in his life. He continued the race without any exertion and was always tried to be a champion in any field that he had chosen. He was not for medals or awards. He wanted to be an exemplary Industrialist and worked hard. The rest of the things followed him automatically.

His untiring personality is a great lesson for all Indian Youth.

Late Sri Dhirajlal Ambani never wanted to be aloof in a corner even after 60 years of Age. His inspiring personality made many enthusiasts to start their own Industry and work hard . But, only a few could succeeded.

What we learn from his life story is that  a Champion is one who continues the race where everyone becomes tired and stops the race.

It is a case study for any member of  the business organisation  or the students of the business. There are many books and other media content which have been published. Hope you enjoyed reading the article. Today I will be writing about some more topics. Looking forward to you readership and feed back. Best wishes and regards – Krishna Kumar.
Viewing 3 posts - 1 through 3 (of 3 total)
You must be logged in to reply to this topic.