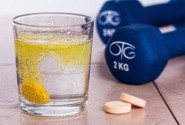 Avoid to much calories this christmas
Author
Posts

This isn't only the one, however probably the most essential rule for staying slim this Christmas is to keep away from liquid calories just like the plague! Most of the people don't understand that this is the primary purpose human beings put on weight at Christmas time.

The truth is there may be a lot of sugar and calories in fizzy soda beverages. There are plenty of calories in alcohol. This is the time the majority who wouldn't usually drink does the relaxation by having a vacation anywhere without alcoholic drinks.

 All of us want to have fun, so everyone's house you may visit, the wine and the beers are there prepared. All of which can be brimming with wines.

The problem is that most of the people now do not definitely understand the amount of calories in those beverages. Initially, after they begin drinking, they forget about how much they have been even had.

Drinking alcoholic is not bad if you know your limits or you know how to control. And it is better if you alter it with some fruit juices.

There is no problem if you have lots of calorie intake especially in Christmas as long as you exercise at least 30 minutes a day.We cannot avoid eating much during Christmas There are many foods  to find hehehe.Like me, everyday I exercise by dancing and sometimes jogging just in our lawn. Our body is so demanding , do you notice? If we cannot exercise, we feel heavy and uneasy, thereby body requiring us to sweat out to have a better feeling.

Every morning and evening, I spend 25 minutes no-stop dancing I maintain my weight since age 17 which is 110 pounds. I am now 36 years, so old now, but my weight remains the same. It is not easy to maintain our weight, but it is just a matter of discipline and thinking that we cannot make it, but actually, we can.

Christmas time means eating time hehehe, so we have to exercise more!

Well u can have lots of calories they are good for health too. But only if u excercise daily.

And dancing is the best way of excercise. It makes our body free and flexible too

@Ma'am Cely, Yes I agree with you, we cannot avoid eating lots of food this Christmas. 🙂 And so, exercise is absolutely needed afterward.  Good for you ma'am Cely because you maintain your daily exercise.

However, to those who are lazy to do any exercises, well, think twice before you intake those foods being served. Hmm, unless you want to become chubby and unhealthy. Hehe 🙂

@sachin Phardi, your idea is also true, we need calories  for our body health, but then, we should control it.

It is okay to intake too much calories if we are doing an exercise daily as you have said, but if not, then we should see to it that our food is of low-calorie content.

You said dancing is a good exercise, and yes, I agree with you.

I assume you are a good dancer, is it?

Lol well m a professional dancer nemzie

M working as a dancer in a academy here in india

Thats why m saying its a good exercise for health no need to join gym and other things….

And i would love to teach u dance if u want lol haha

Impressive one.

I appreciate good dancers. I loved to dance when I was still a student. But after losing the dance competition in school, I quit, hehe.

Oh! I'd love it, if you want to teach me more on dancing, well appreciated, the only thing is we are from different country.

Well Dear winning or loosing is just matter of game all we need is to learn

And yeah thats a main thing that we are from the diffrent country but we can be a good friends

Isnt it???

Of course sir Sachin Phardi, we can be friends.

That is one main goal of being in literacybase, i think. To be friends with others even we are from distant places. We can be friends through sharing our ideas with each other.

Ok thats good

Thanks nemzie

Its great to hv a friend like u

😜

@Nemzie Bayawa, It is so vital to maintain our figure  through weight loss or maintenance to get rid off bad sicknesses. As we age, we eventually realize that overweight can cause many health problems . The usual sicknesses we hear are high blood pressure, high sugar, high uric, hyper acidity, diabetes, big C, hear problems and more and all may derive from obesity or from lackness of discipline in term of food intake.

Sometimes we ignore the fact because of greediness of food hehehehe. I am one sometimes greedy of foods, that is why I have to make sure to do some steps to reduce my calories before going to sleep every night good for 15 minutes only.
Viewing 11 posts - 1 through 11 (of 11 total)
You must be logged in to reply to this topic.