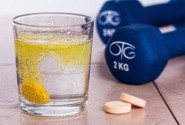 Do exercise for few minutes a day during Christmas
Author
Posts

As we celebrate Christmas, our pocket is also concerned about spending many things just to compensate our feeling and riding on the spirit of Christmas. There will be many foods seen on table, many recipes to cook and many drinks to taste. It was learned from health experts that every Christmas, we add three to four pounds of our weight. Too bad, it might not reduce to normal.

It is much better to measure the food to eat. There is a right measurement for every food we take. This avoids abnormality of our body, but many lack knowledge about the right measurement of food. Once taste the food, and like it, the control disappears especially if the food is so yummy. It should always be remembered limit of what to take to avoid body problem. How we wish to eat as much as we want to, but our body systems already programmed

Let us just eat according to what our body needs and not to over eat to avoid heart problems.  Blood pressures may trigger to rise. It's hard to control our mouth. It does not refuse. It's our body that holds the food thereby complains if so loaded. Well, if cannot avoid to take plenty, just do a 7 minute exercise daily. Do not consume hours exercising. Some of our joints might not be legible to do some reflexes.

Image credit: Pixabay Free Images

It is very important   for us to exercise daily, just for few minutes to wash out the calories from our body. The food we eat varies according to value and contents. This Christmas, we cannot avoid eating most of the time meat, too sugary, too acidic, too oily.These kind of stuffs are harmful to our health. Let us not allow these foods to accumulate to our body.

To exercise daily, at least 25 minutes can help a lot,rather than nothing than at all. There are so many landed in hospitals and landed 6 feet below the ground because of heart attack and other kind of attack like cholesterol, too much sugar , meat and others. You may execute some steps in dancing, just move the body, shake the body, or do some few minutes walk should you cannot dance an swim in pool or sea.

Another, it will be better for you to drink many glasses of water.

Let us take good care of  ourselves this Christmas 2016.

Images credit by: Pixabay

We need to listen to the call of our body especially during Christmas season when food is so abundant on our table and refrigerator hehehe.After the New Year celebration, every working people must go back to work and our office mates will be surprised to see everyone in the office bloom hehehe, meaning extra weight is observed. Even doctors warn the public to take extra careful in eating. There should be no overeating of meat and other foods that trigger hyper persons and those whose blood pressures fluctuates everyday.

Exercise everyday for few minutes is so important to fight against sicknesses. If you cannot jog around, do it inside your living room while watching TV. Jog where you stand for only 500 non-stop counts.You can make  it slowly and gradually, until you can make it a little bit faster.

There is nothing impossible under the sun if we will only help ourselves. It is true that to exercise makes us sleepy and hungry after hehehehe, but you can eat after , but drink water first before eating for water is also a good remedy to cease hunger.

Nice pictures right there cely. Christmas time is a rime to celebrate. As many people would say it is a time when nothing is controlled everybody everywhere wants to indulge and do all th3 stuff that they were nit able to do throughout the year. Now here comes th3 time when all the food you love is being laid out everywhere you go. What do you do will you just let it pass gou buy or will you dig in and enjoy. I know what most people would do they will indulge and then think about th3 damage they cause on their bodies weeks later. Like you said its good to watch what we eat during christmas time so that we don't regret it later. Every beginning of the year you will always hear people confessing and saying how their new years resolution is to cut weight, this us because they over indulged during the festive season. So taking precaution is good at all times. For me exercise is part of me and health is something i take quite seriously i don't let food take over me.

@Anitah Gimase, he,he,he , that is true let is not our greediness take over us or else regret happens at the end of the happy eating journey. Sometimes, we feel lazy to exercise, but we have to. I start to exercise when I was 17 until now, I do to maintain my weight, 110 pounds. It is not easy to maintain our weight. It takes time everyday. If I missed a day or two to exercise, I might be out of town or sick.

When I regained all my energy if sick, I consume 45 minutes exercise. I also drink lots of water as body cleanse power.We feel being drained if drink lots of water for urinating as cleansing follows. It is not advisable to travel if has drunk lots of water. You will surely feel successive urination,lol.

About the foods on the table, many advise not to look at the table hahahaha to avoid temptation. It is also advisable not to keep on opening the refrigerator to avoid the voracious feeling which is true. That is humans, greedy of foods.The mouth do not refuse only the body, but sometimes the owner self never listens to the body, thus making the body expands more and more.

The only way to remain cute is exercise daily and make it as  a daily habit.

How i wish i have the time to exercise everyday , even at leats 30 minutes . The doctor asked me before if i can exercise at least 30 minutes a day . I told her i cannot , only on weekends .

Thus , i was given a prescription for 100 days for my above the normal level of my cholesterol last October . lol

@Dina, really? That is so easy to cure cholesterol. I blog eat here. Eat white kidney beans to educe your cholesterol and normalize it. I wrote here many blogs about health related blogs. They are based from famous doctors  met on line.They are so credible and so famous in United States. Also  try to eat citrus before meals, tor educe your cabs that cause high cholesterol.

By the way, you may spend 10 minutes exercise by dancing. I exercise daily at least 10 minutes non-stop dancing with music from my celfon so it cannot interrupt other people at home, You try it A t first,  5 minutes, then next 10 minutes. Your body surely longs for this after you do this everyday before meals of course or before going to bed. Take  care and good night.

I have just arrived home  from school to punch out hehehehe.No, logged out. Our machine was destroyed by flood, two punch machine destroyed.

I don't want to do some exercise at least 3 hours before my sleeping time because it will surely disrupt my sleeping pattern because my mind and body will be so activated by that.

I wiggle my body at least 5 minutes in the morning. he he he

Thank you for those tips, i will have it in mind to shoo away my fats at my tummy area which is y problem really.

@Dina, hehehe, 3 hours seem so long hours. I cannot manage to do exercise in 3 hours. There will be many points to earn here and there hehehe. Five minutes could be better by just swaying your body. That s what I am doing while watching TV. Plus, after eating, you stand up right away, never remain sitting for it makes tummy bulgy hehehe.

By the way, I hope you already made friendship to our Mylot friend who s here too, Shavkat. I already told him about you ad he is so excited too seeing you here.

I would also like to congratulate you for being so active here by dong some tasks writing blogs and discussing some topics here. Keep up the good work my dear.
Viewing 9 posts - 1 through 9 (of 9 total)
You must be logged in to reply to this topic.