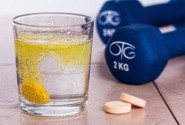 30 Day Fitness Challenge, Come Join In
Author
Posts

Yesterday, I downloaded the app 30 Day Fitness Challenge to my phone and I'm inviting all of you, here on Literacy Base to join in. Each day, I'll be posting my updates here.

It's something we can do together as a support group.

It doesn't matter if you never workout before or if you've been fit your whole life. The end all goal for EVERYONE is the same…

A Happier, Healthier, Life.

DAY 1 3/20/2017

My first day, I  decided to focus my challenge on ABS. So for 30 days, it's all abs for me!
What will you choose to work on?

Full Body Workout

Ab Workout

Butt Workout

Arm Workout

Leg Workout

My phone broke. I was out when my phone rang. I tried to answer it, it dropped, the screen cracked into a thousand pieces so… even though I've done this challenge for THREE days i had to do the second DAY twice without no app. Hopeful I'll have a new phone today. I'll add the app and get going.
Viewing 2 posts - 1 through 2 (of 2 total)
You must be logged in to reply to this topic.