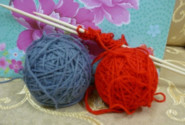 Handwork
According to the dictionary, handwork is work done with our hands, but not by machines. This includes drawing, painting, crafting, crocheting, knitting, sewing, woodworking, cooking, soap making, etc.
Let's share what you are interested, what you are working on or just anything about handwork!
Do you cut hair for others or yourself?
Author
Posts

@grecy095 My problem is I have a very full head of super thick, coarse hair. Most hair dressers have never seen anything like it, so they have no idea how to handle it…

@ruby3881 oh, I am looking at your picture it doesn't look that way sis, but anyway, if that is the case then maybe the hairdresser and cutters really don't know how to handle it, and might be scared to touch your hair for the reason it might end up the way you like it.

@Lee Ka I have never tried cutting my own hair nor of others. I will totally mess it up. I get my hair cut from a professional hairdresser only. I can understand that you cut the hair of your kid but how do you manage to cut your own hair? Isn't it too inconvenient? I mean how is it possible to use scissors at the back of your hair? You must be an expert if you are able to do this.

@swalia she can turn back her head outside down as I saw something like that at YouTube and this lady really is a killer of cutting her hair. It requires a lot of focus and of course, experienced. When she was cutting her hair before, it went out uneven and it creates something that irritates her until she learn how to do it herself and that is wonderful.

@grecy095 You really can't tell from the photo. Actually, it's not easy to tell even up close sometimes! But my hair reaches almost all the way down to my hips now, and I have to buy extra-large elastics if I want to tie it up in a ponytail.

I cannot wear a hat or a bicycle helmet if my hair is tied up, because the ponytail is too thick and pushes the hat up. My two older daughters have the same problem: when they do their hair up for cadets, the bun is about the size of a grapefruit. If not done correctly, it will push up on their beret or other headdress. Today my middle daughter was wearing a Glengarry, which has two ribbons that are supposed to flow down the back. Her bun pushed the ribbons outwards, instead of down.

I have more hair on half my head than most people have on their whole head. When the hair dresser tried to braid it years ago, the braid was too thick for her to hold it and continue weaving it. I knew a Haitian lady who could do it, but boy she used to tug hard on my hair! I loved the styles she did for me, but it was like torture getting her to put them in.

I cut my own hair the first time when I had a broken heart. My ex married another without telling me; it was so sudden for the girl was pregnant. I was so mad that I  wanted to kill them. I was so hurt that I wanted to jump from a high bridge.So to remedy my feeling, I cut by myself , my  long hair . It shocked me and my family, for that time , I learned I have a skill in hair cutting hehe. What a blessing in surprise!

Coconut head, still exist today isn't it?

My son doesn't mind his coconut hair cut, from me, because he dislike the male Indian barber.

He also can't stand the barber shop smell, so sometimes he would request me to cut his hair when it grows over his collar line.

I don't use the bowl to follow the shape.

I just trim his hair as I go along the line, shorter and shorter, in the end, it looks like a coconut shell

His classmates called him "small uncle"

They said, he looked like an uncle but small size

Hahaha @peachpurple small uncle, now I can tell exactly how he looks like, but not a small uncle but a cute little boy. Yes, coconut head still exists with young boys and toddlers here. There are even little cute girls with coconut head hair cuts.

@ruby3881 so I am imagining it is quite a struggle on your part! Have you tried to get it relaxed or have a coconut milk treatment that will calm down it a little and smoothens up your hair because I know a friend who have their milk treatment and their hairs are too big, like the Tina Turner wig, and their hair went down, like a big improvement with milk treatment. Have you tried any kinds of treatment?

@grecy095 No, treatments wouldn't help. I have many more hairs on my head than other people, which is why it's so thick. My daughters are the same, except one has fine hair like her father and the other has really coarse hair shaft like me. you can see the difference. The coarse one has shorter hair, but she has a much bigger bun than her sister.

There is no need to relax the hair. It's just thick and coarse. It's naturally wavy, but not overly curly or frizzy. When the braid was done by the hair dresser, the hair was still wet from being washed. It was as tightly packed as it can go, and it was still too much for her.
You must be logged in to reply to this topic.