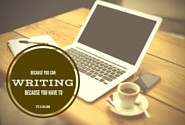 Writing for the Web
Trying this again!
A place to discuss writing online – blogging, content writing, paid to write sites, etc. Come talk about the art of writing for the web, about how web writing differs from writing for print, or about great resources for web writers! Topics could include related concepts like SEO, promotion and social media, and graphics for your posts.
Making Good Progress on TextBroker UK
Author
Posts

I wanted to come back and check in, for those who were curious how things are going with TextBroker UK. So far, I'm very pleased!

The two articles I submitted have now been accepted by the client, who rated them at 5 stars on every one of the ratings scales. The pay seems to be in my account, and I'm just waiting for TextBroker to give their rating. If they concur with the client, I will be really happy!

Apparently if you have a rating of 5 stars over 10 articles written, they automatically consider you for the 5-star "Professional" rating. That just about quadruples the pay rate, so that would be awesome!

I'm still a bit concerned about the amount of jobs on offer. But even if I can just write a few articles each week for them, it will be a huge help. And once I'm feeling well settled, I have two or three other work for hire sites to investigate.

I would really encourage anyone who is a native English speaker with good grammar to try this site. You might be surprised at how well you do!

@ruby3881  I am so happy that this is working out for you. I knew you would have no problem having your articles accept since you are a very good writer. I may just check it out myself and see what happens. Lord knows I could use the money. Hope you get the "professional" writer category since I consider your writing professional.

@morgoodie I think you could do well there, providing you find assignments that fit your interests and knowledge base. If you can't find anything that suits you at first, just fill in your profile and wait.

I completed three assignments for the same client this week, but today I didn't see anything that appealed to me. I am also going to be away for quite a bit tomorrow. So I decided not to accept any new assignments for the moment. This gives me time to work on my blog, submit some posts here, and maybe add to my TextBroker profile.

I won't set any goals for this weekend, as far as client writing is concerned. But for next week I'd like to get at least another 3-5 assignments done.

@ruby3881  I will check it out. You are inspiring me to be bold and take a risk. I mean the worst that can happen is that they do not accept my article right? I won't know if I don't try. I need to find a more lucrative online income anyway. I will give it a try this weekend. Thanks for the confidence.

@morgoodie I wish I had taken more risks when I was a newer writer, and that I had worked harder to learn things like SEO and social media marketing. It's good to stretch a little bit, and to always keep reaching for just a little more 🙂

@ruby3881, Congrats Ruby, We feel what you feel. At least you have found a site that could give you extra happiness and earning on line.How happy i would be if they include people from my country.

@ruby3881 I do not know about payment matter.

I think you have to read the FAQ or send email to support to ask about it.

I think whatever Paypal deduction is imposed by Paypal, and not by Textbroker.

I know that Fiverr is very clear about it.  In fact, we were told to expect deduction for every withdrawal.

@scheng1 There doesn't seem to be much in the way of a FAQ or such documents on the UK site, whereas there are a great ,any docs on the US site. I'll have to look around again…

Some sites impose extra fees at cash out, though I think it's in poor taste to do so. HireWriters started charging a fee for Copyscape, about two weeks after I started working there. As I recall, it was a flat fee of something like $5 per cash-out. Since many people had their accounts set for automatic cash-out each week if there was $20 or more on account, and since there was no warning at all when they started to add this charge, a lot of us got caught with a huge fee 🙁

I just wanted to say that I requested my first payment from TextBrokers UK, which should arrive around the same time as my first LB redemption. They pay out each Friday to any member who has at least 10 euros on account, and who makes a payment request by Thursday.

One thing that was quite impressive is that instead of getting a simple pop-up message to confirm the payment request had been recorded, there was a full-page credit note issued for tax purposes. It verifies the PayPal address and shows what the payment is for. It's all written up in English and German, as their UK site is one of the international branches managed in Germany.

If anyone here is a native or very fluent speaker of German, French, Italian, Brazilian Portuguese, or any other language commonly spoken in Europe, it might be worth checking to see if you can write for one of the other international sites. If you click on the little flag at the top of any TextBrokers site, it will bring up a menu for all of the sister sites.

@Ruby3881 Let me suggest you another site that pays you $100 for each article they accept. Read the points carefully and give it a try. You never know if your article is the next one they're looking for- Check the published articles and see what they need.

http://listverse.com/submit-a-list/

@sunil Yes, I had been considering Listverse. I have a couple of other high-paying sites I want to look into as well. I need to become more familiar with the type of content each is looking for, and then I'll try to pick a few to test out.

@sunil I forgot to ask, have you published anything on Listverse? I don't think I know any other writers who have. It would be good to learn about someone's personal experience with the site.

@Ruby3881 No, I never even tried doing that although I have done similar projects for a site called Squidoo which is long been off the net now.
Viewing 14 posts - 1 through 14 (of 14 total)
You must be logged in to reply to this topic.