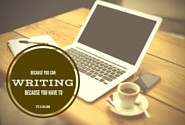 Writing for the Web
Trying this again!
A place to discuss writing online – blogging, content writing, paid to write sites, etc. Come talk about the art of writing for the web, about how web writing differs from writing for print, or about great resources for web writers! Topics could include related concepts like SEO, promotion and social media, and graphics for your posts.
Is it Safe to Add Videos to LiteracyBase Posts?
Author
Posts

Another question for @admin or @support to clarify: are we allowed to add video (e.g. from YouTube) to enhance our posts? I know the option to add media from a URL is there, which in theory means we should be able to add video. But I have had it happen on other sites that the admin say videos are banned, only after users have inserted them.

I have a fun post about a humorous song written and performed by a favourite artist. I would so love to be able to add the video to allow the readers to see her perform 🙂

@ruby3881 That's a good question! I would like to know about this too. Though I do not create my own videos, there are many good videos around and perhaps these might benefit other members as well, but I am not sure if it's good for the site. Will it cause the site load slower?

By the way, when we are sharing the YouTube videos, do we need to give any attributions like how we do for images?

Good question about the credits for videos, @kaka135! I think generally you would not need to give credit because you are embedding the content into your work. It remains intact and linked to the original source, and with a single click the reader is able to go to the page where it's hosted in order to learn more.

This contrasts with the use of an image that you are copying to your computer and then uploading with your article. If you were to stop just at adding the graphic, your readers would assume the work to be yours and would have no way to locate the originator of the piece. That's why an image credit is so important.

I do always try to give some kind of lead-in or credit in the body of my post when I embed a video, though.

I think , we can add video to our post to enhance the readers.That is the usual practice to other sites.

Thank you @admin! I was just getting ready to submit an article that will be even better with the video, so this is perfect timing 🙂
Viewing 7 posts - 1 through 7 (of 7 total)
You must be logged in to reply to this topic.