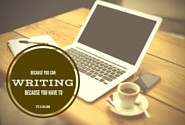 Writing for the Web
Trying this again!
A place to discuss writing online – blogging, content writing, paid to write sites, etc. Come talk about the art of writing for the web, about how web writing differs from writing for print, or about great resources for web writers! Topics could include related concepts like SEO, promotion and social media, and graphics for your posts.
Happy I Tried TextBrokers UK!
Author
Posts

I wanted to thank @kaka135 and the others who pointed me towards TextBroker UK. I signed up, got approved, and was able to find work right away. I submitted one article already, and reserved another. As there is sometimes up to 5 days before the deadline, I have the luxury to rest and research before I write. So I'm happy about that!

Not sure how this will be over the long run, but so far it's promising, Thanks for the referral!

@ruby3881 Good for you.  Textbroker has been around for a long time, and it is very reputable.

I think you will soon earn enough to pay your bills.

@Ruby3881 Congrats! If you check that thread I was saying this right from the beginning that I was able to get it during my stay in Australia. Now may I know what rating you got? Now you can have lot of rest once you have started writing for that site, all the best.

congrats, I heard that textbroker are for UK or US writers only.

I haven't tried out yet, in addition my standard of English isn't as goo as yours.

Best of luck !

@ruby3881  Congratulations. I have heard of this but have no idea what type of site it is other than for writing. I am sure you are going to do great there and have no problem finding work there. Hopefully, it will work out well for you. Good luck.

@scheng1 They do seem like a very professional site. I'm just hoping I can find enough assignments there!

@sunil Yes, they apparently take members from all English-speaking countries that have PayPal service. I'm really glad you & others took the time to mention that this service is different from the US one, which won't accept anyone outside of Americans.

I got a 4-star (excellent) rating based on the brief, informal writing sample. I am hoping that I can upgrade that once I have a few assigned pieces accepted 😀

@peachpurple The US branch only accepts American writers, but the UK one will also accept writers from Canada, Australia, and I think also New Zealand and South Africa. It has to do with banking and PayPal accounts, as well as a preference for countries where English is one of the official languages.

@morgoodie TextBroker is a site that matches writers with clients who need work written. It's what is sometimes known as a work for hire site. The clients order the work with specific instructions and a fized rate of pay, and the writers then request to write the piece. If the piece you submit is accepted, you get paid according to the offer.

Wow, nice at least you have another site to augment your on line income. That site might have some limitations.There are sites in which my country is still on the process to be part of their program like swagbucks.

@ruby3881  Sounds like a really good site. Not something that I would be able to do but maybe with a little more experience maybe. I am glad that you have found this avenue for your online earning. I know you will do well there.

Congrats Ruby. We are all so happy for you here.Thanks for sharing your happiness.We feel what you feel this very moment.

@Ruby3881 Four is good enough (mine was 3). No, South Africa is not in the list and New Zealanders also were included after a long time. All the best once again.

@ruby3881 you will find more than enough assignments there.

You can take those assignments meant for writers of lower quality, though the pay rate is lower.

Thanks everyone for your well wishes! I have submitted my second piece and managed to scoop a third piece for the same client today. I am a little nervous that I haven't received feedback on the first, but it is a medical article and apparently they have 4 days to consider the article.

Luckily, this client has a very high acceptance rating, and only rarely seems to ask for rewrites. I hope that means my writing will pass muster. I did good research for both articles, and I think the tone I chose for each piece was good.

@scheng1 I do wonder a bit about how frequent the work will be. Tonight there was only one article in the health category. There was one in the "other" category, and there were 5 listed under mobile phones. I forgot to look at these before I clicked on the medical one, so I'm not sure if they would have been easier….

When I search for work, the search is automatically set for everything from 2-star to 4-star content. Not a lot is coming up for the OpenOrders, so tonight I added the option for DirectOrders. Most of it seemed like web site reviews for chat apps, dating services, etc. I noticed that the prices seemed higher for DirectOrders, but I'm not really understanding how they work yet.

What is the purpose of the "Report Briefing"? I'm trying to figure out if I'm meant to fill this in, and if so with what?

@sunil and @lovern Thanks to you both for the encouragement! I know I will be less nervous about this once I have a few articles accepted. For now, I am happy to have the moral support 😀

@morgoodie You writing skill is very good. I can see you writing on such a site. Honestly, it's not such a difficult thing to write articles for clients if you can get topics that are right for you. I enjoy the medical ones. A topic like cell phones might be easy for some, but I wonder if I would find enough to say, LOL!

You are always welcome Ruby. You happiness is also our happiness.

You are welcome @ruby3881  and thank you for saying that about my writing. I just do not feel that it is good enough but maybe after we get moved I will look into this site more. I just do not want to get into it and have deadlines right now. I hope you hear soon about your first article.
Viewing 14 posts - 1 through 14 (of 14 total)
You must be logged in to reply to this topic.