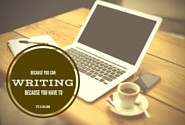 Writing for the Web
Trying this again!
A place to discuss writing online – blogging, content writing, paid to write sites, etc. Come talk about the art of writing for the web, about how web writing differs from writing for print, or about great resources for web writers! Topics could include related concepts like SEO, promotion and social media, and graphics for your posts.
Earning with invites
Viewing 1 post (of 1 total)
You must be logged in to reply to this topic.