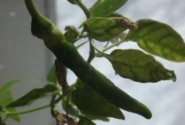 What is your natural remedy for cold and cough?
Author
Posts

@ruby3881 Then, that's really long! For my three pregnancies, I always feel quite sick in my first trimester, and also ended around 4 months. So, I couldn't do much in these four months. I didn't really expect someone having the morning sickness until nearly deliver, though I read about it from the Internet. Well, it's all over now. 🙂

When I was having the uneasy feeling, I kept telling myself, this too shall pass. I would feel much better very soon, and it's all the best for the baby.  😀

@kaka135 There is some link between morning sickness and hormone levels. My levels are always very high, so more morning sickness 🙁

The only time I wasn't sick was when I miscarried. The pregnancy tests were coming back kind of borderline, and the doctor knew I'd conceived but he couldn't find the heartbeat. I lost the baby at 9 weeks but it had likely stopped developing normally by 6 weeks, when the morning sickness usually kicks in for me.

My remedy for a cough and colds are baking soda diluted in water and putting apple cider vinegar in the water, maybe two spoonfuls of it. This is because baking soda and apple vinegar have a cleansing power that stops the bacteria from growing. Since could and colds are due to viral infections, it will be removed from the consistent use of baking soda and apple cider vinegar.

@ruby3881 I am sorry to hear about your miscarriage. I did not know about the link between morning sickness and hormone levels. I just found that all my three pregnancies are quite similar, though I am more tired and uneasy for my third pregnancies, perhaps I am older and also busier than before while taking care of two children and also rushing for projects.

@grecy095 I didn't know baking soda and apple cider vinegar work well for cold and cough. I am really glad to have this forum here, and I have been learning a lot from you all.

@ruby3881 oh I am so sorry about your miscarriage sissy. I feel sad because it has been 9 weeks already and now is mother's day sissy. Do you have a child before or after it? I wish to know.

@kaka135 sissy yes. When I had my UTI, I had a lot of research of home remedies. The one that could help you in order to get through with these viral infections are baking soda diluted with water, cranberry juice/fruit and apple cider vinegar, or apple cider honey is good too.

Baking soda one teaspoon + one glass of water. It is salty so you better warn yourself and finish drinking it, once a day. Glass of water, the size of the regular glass.

Apple cider vinegar – 2 spoonful, to a regular size glass that has water, drink it all, once  a day, but it is good if twice a day.

Apple cider honey – one spoonful after a meal, you likely to choose dinner or lunch.

Cranberry juice – any kind, any brand. One glass a day.
You must be logged in to reply to this topic.