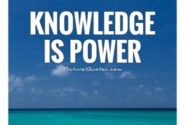 Knowledge Is Power Use...
The group is dedicated to like minded friends who would like to discuss any topic which will help us have a healthy debate and discussion and help us in becoming better human beings. Please go through the details and understand the same well before joining the group as joining the group means agreeing to the same. The knowledge thus obtained can be used for the betterment of humanity and help us in turning out to be individuals working for a common good and a better world. Respect and tolerance for others opinion and views is a basic requirement in this process members would also not make any negative comments, character defamation and use abusive language and indulge in deviant behaviour. Whoever would want to join or comment in the group would not misuse the group and stray from its objective and would not indulge in any legal cases, arbitration, suits, claim damages and the like. Topics will usually start with a write up article.
www.mango.com
| | |
| --- | --- |
| Author | Posts |
| | International brand dedicated to the design, manufacture and sale of women's, men's and children's clothing and accessories. http://www.mango.com |
| | I think this is against the terms and conditions of LB. Please try to check it. One can not give a link for business purpose. |
| | Mangoes are juicy stone fruit (drupe) from numerous species of tropical trees belonging to the flowering plant genus Mangifera, cultivated mostly for their edible fruit. The majority of these species are found in nature as wild mangoes. The genus belongs to the cashew family Anacardiaceae. Mangoes are native to South Asia,[2][3] from where the "common mango" or "Indian mango", Mangifera indica, has been distributed worldwide to become one of the most widely cultivated fruits in the tropics. Other Mangifera species (e.g. horse mango, Mangifera foetida) are also grown on a more localized basis. |
| | |
Viewing 4 posts - 1 through 4 (of 4 total)
You must be logged in to reply to this topic.