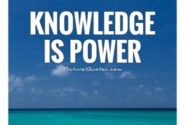 Knowledge Is Power Use...
The group is dedicated to like minded friends who would like to discuss any topic which will help us have a healthy debate and discussion and help us in becoming better human beings. Please go through the details and understand the same well before joining the group as joining the group means agreeing to the same. The knowledge thus obtained can be used for the betterment of humanity and help us in turning out to be individuals working for a common good and a better world. Respect and tolerance for others opinion and views is a basic requirement in this process members would also not make any negative comments, character defamation and use abusive language and indulge in deviant behaviour. Whoever would want to join or comment in the group would not misuse the group and stray from its objective and would not indulge in any legal cases, arbitration, suits, claim damages and the like. Topics will usually start with a write up article.
WISDOM IS FROM GOD
Author
Posts

WHERE CAN WE LOCATE WISDOM?

1.But where shall wisdom be found? and where is the place of understanding?

2.Man knoweth not the price thereof; neither is it found in the land of the living.

3.The depth said, it is not in me: and the sea said, it is not with me.

4.Destruction and death say, we have heard the fame thereof with our ears. Job 28; 12 to 14, 22 & 28.

5.Then reads, And unto man He said, Behold, the fear of the Lord, that is wisdom; and to depart from evil is understanding.

6.True wisdom is not far fetched, it's in God who knows & sees everything. His wisdom is eternal & He had made unto us wisdom, righteousness, and sanctification, and redemption in Christ Jesus. 1 Corinthians 1:30.  Hallelujah!!!

Wisdom is knowing God. It does not come so easily. We use the word GOD without any understanding. When we sit calmly and go on thinking about the things around us with introspection we may reach some stage at which we may arrive at a conclusion. It needs severe thinking. Can everybody think and understand the things? No. So God has provided various channels through which one can understand him. Even one can not understand, he may find the way to reach God. Reaching God? It is somewhat obscure. One can not reach God. He may get a chance to know God only. Reaching God is nothing but almost replacing some other God who are his favorite disciples.

Agree with what you have stated. It not easy to reach God in today's time and age. If one is able to even get inspired and understand Him. That in itself would be a great achievement and one lifetime is not enough to do this as per what I know. God is like the river of life who flows through different individuals and people try to reach Him when He is present in them too.

The sooner people come to realize about this the better it is for the world which we live in. There are ways in which one can find God like helping someone who is in distress, trying to reduce other pain, feeding someone who is not fortunate to even find one square meal a day, helping a animal which is hurt one can find many more ways it is only for the individual to understand how he will serve those living beings in which God resides. Thanks for the valuable inputs.
Viewing 3 posts - 1 through 3 (of 3 total)
You must be logged in to reply to this topic.