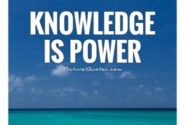 Knowledge Is Power Use...
The group is dedicated to like minded friends who would like to discuss any topic which will help us have a healthy debate and discussion and help us in becoming better human beings. Please go through the details and understand the same well before joining the group as joining the group means agreeing to the same. The knowledge thus obtained can be used for the betterment of humanity and help us in turning out to be individuals working for a common good and a better world. Respect and tolerance for others opinion and views is a basic requirement in this process members would also not make any negative comments, character defamation and use abusive language and indulge in deviant behaviour. Whoever would want to join or comment in the group would not misuse the group and stray from its objective and would not indulge in any legal cases, arbitration, suits, claim damages and the like. Topics will usually start with a write up article.
When Govt fails to keep its promise, common people take charges
Author
Posts

when government fails to keep its promise, common people take charge always. It is proved by the villagers of Lahari, in Hazaribagh district of Jharkhand, India.  This village is 50 km away from  District Hazaribagh. The nearest city is Kodarma.

The road, Lahari to National Highway 2 was very dangerous as it was kachcha road which was almost always under the water. The villagers had to cross Koel River to reach NH 2.

The villagers requested Government to build a 1.5 km road and a bridge over Koel River to communicate Lahari and National Highway 2 since 1996. Ministers came and gone, but the problem wasn't solved as Ministers failed to keep their promise.

Being tired of false promises, The villagers took charge into their own hand. they started collecting money to build the road as well as the bridge in Feb 28, 2016. They started working continuously in teams of 50 To build 1.5 km road  and managed the whole work in just four months.

The Government's estimate to complete the project valued at 58 crores was completed in only Rs 50 lakhs at last. Now they are proud villagers.
Viewing 1 post (of 1 total)
You must be logged in to reply to this topic.