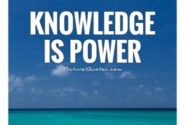 Knowledge Is Power Use...
The group is dedicated to like minded friends who would like to discuss any topic which will help us have a healthy debate and discussion and help us in becoming better human beings. Please go through the details and understand the same well before joining the group as joining the group means agreeing to the same. The knowledge thus obtained can be used for the betterment of humanity and help us in turning out to be individuals working for a common good and a better world. Respect and tolerance for others opinion and views is a basic requirement in this process members would also not make any negative comments, character defamation and use abusive language and indulge in deviant behaviour. Whoever would want to join or comment in the group would not misuse the group and stray from its objective and would not indulge in any legal cases, arbitration, suits, claim damages and the like. Topics will usually start with a write up article.
Quotes: Ten Quotable Quotes – 8
Author
Posts

Here is the next set of ten quotable quotes in the series. Hope readers would love to read them and appreciate the deeper meaning behind each gem of a quote.

1) A strong foundation in the home allows an individual to do work to the best when they grow up.

2) Everything in your life is a reflection of a choice you have made.

3) The best decisions are not made with your mind, but with your instinct – Lionel Messi.

4) Obey the principles without being bound by them – Bruce Lee.

5) Life is a Roller coaster. You can either scream or enjoy the ride.

6) The problem is not the problem; the problem is you attitude about the problem – Jack Sparrow.

7) Give the ones you love wings to fly, roots to come back, and reason to stay – Dalai Lama.

8) The most powerful moral influence is example  – Huston Smith.

9) Self is the first object of charity.

10) If you plant patience, you will reap improvements.

Give the ones you love wings to fly, roots to come back, and reason to stay – Dalai Lama. looks very appealing.

Those are some good quotes right there. The ones that stand out for me are self is the first object of charity as in love uourself then it will be easier to love others. I love that. Everything in your life is a result of the choices you made. Thats very true unfortunately i have been there before and i sometimes really regret to see where i am at, but all the same am glad that i reached this point. It wasent easy but i got there. It takes patience and discipline. The last one is about the problem, th3 way we deal with our problems is what will make things work or break. Otherwise attitude is everything in our everyday life watch the way you act. Thanks for sharing.

Thank you for the feedback, this will make me search some more good quotes which will be useful for all of us in our day to day lives. The good thing I find about quotes are they are young even if they get old, that is the beauty of quotes as per my opinion. I also try to use this to put a point across more effectively in my interaction with people which helps to put your point easily. Have a great day.

I love quotes and your quotes are some fine examples! Quotes truly are inspirational and can help you deal with a though periode in life or just to cheer you up. Of the 10 quotes I most like number 6 "The problem is not the problem; the problem is you attitude about the problem" because this is how i feel about life. You need to have a positive mentality too be succesfull (whatever you think is important) in life. Here is a quote from me to you all: Be strong enough to stand alone, smart enough to know when you need help and brave enough to ask for it. After all mentality!!!!

I liked the quote which you have written in the message it speaks about practical situations in life and how we are supposed to be dealing with them. Your meaning of the quotes chosen out of the ten has given me a new insight to look at the quote through. Thank you for the feedback and the quote which is very practical. Have a great time. Best wishes and regards.

Quotes have unique and modern value and can offer advice and guidance in  an area to a person. There are some truths of quotes that have more truth than others. In most ways anyone can find benefit of a quote as it may involve learning to an extent.

I love discovering new quotes, I have a little book and I write down all the quotes that I love in it. I will be sure to add the quote you provided in it. One of the many quotes I love: "Just when the caterpillar thought her life was over she began to fly." or "The way we talk to our children becomes their inner voice" – Peggy O'Mara. I have so many more, but It would take me years to write them all down here. I have two books and I am now on my third one of all the quotes I have collected over the years.

@Tracy

Thank you for adding some of  the quotes in my article to your collection. The two quotes that you mentioned as your favourites are really inspiring. Quotes are something that help us get through some problematic situations of our life. Actually your idea of maintaining a book to write all the quotes you love is a very good idea. Years later when it is gone through it gives happiness and solace to our heart. Quotes themselves arise from the experiences that each person in the world faces. They also provide us a path towards peace. Quotes helps us make decisions and also face some of the harsh realities of life. Thank you for your feedback.
Viewing 9 posts - 1 through 9 (of 9 total)
You must be logged in to reply to this topic.