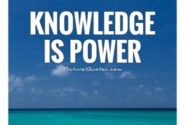 Knowledge Is Power Use...
The group is dedicated to like minded friends who would like to discuss any topic which will help us have a healthy debate and discussion and help us in becoming better human beings. Please go through the details and understand the same well before joining the group as joining the group means agreeing to the same. The knowledge thus obtained can be used for the betterment of humanity and help us in turning out to be individuals working for a common good and a better world. Respect and tolerance for others opinion and views is a basic requirement in this process members would also not make any negative comments, character defamation and use abusive language and indulge in deviant behaviour. Whoever would want to join or comment in the group would not misuse the group and stray from its objective and would not indulge in any legal cases, arbitration, suits, claim damages and the like. Topics will usually start with a write up article.
Mumbai: Soon, you can visit One Rupee Clinics to get tested for HIV
Author
Posts

Dr Rahul Ghule, CEO of One Rupee Clinic, said, "Through this initiative, we are playing a midway role between government and private hospitals to avail the affordable health." The rapid HIV kits will be provided by the MDACS to all the one rupee clinic situated at city's various station. "It is the self-kit test where one involves taking a prick of blood from a finger and will provide results in 15 minutes," added a senior official.

Yes, that's ok but in which country is rupee clinic? Does the clinic have branches allover the world? Iam so concerned because I come from one of the hard to reach parts of Uganda that is Karamoja region, Where the major probem is access to health services. We have been forced to start helping people on a private basis deep in village where tranport means is a problem too.
So your idea to test Hiv is good. Hence can you bring these services to where Iam working from? This way the major illnesses are malaria, typhoid, bruccela, STDs/Is, GITIs, fungal infections among others. If you can extend such services to us then you are most wellcome. Or connect me to an orgaization that can help my people.
Thanks alot.

This is awesome and very much required. There is still a lot of lack of awareness around HIV and AIDS.

Interesting and useful information. Thanks for sharing the same. Best wishes and regards.

Very useful and informative. Thanks for posting the same. Best wishes and regards.

Useful information. Thanks for posting the same. Best wishes and regards.
Viewing 6 posts - 1 through 6 (of 6 total)
You must be logged in to reply to this topic.