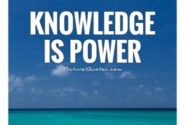 Knowledge Is Power Use...
The group is dedicated to like minded friends who would like to discuss any topic which will help us have a healthy debate and discussion and help us in becoming better human beings. Please go through the details and understand the same well before joining the group as joining the group means agreeing to the same. The knowledge thus obtained can be used for the betterment of humanity and help us in turning out to be individuals working for a common good and a better world. Respect and tolerance for others opinion and views is a basic requirement in this process members would also not make any negative comments, character defamation and use abusive language and indulge in deviant behaviour. Whoever would want to join or comment in the group would not misuse the group and stray from its objective and would not indulge in any legal cases, arbitration, suits, claim damages and the like. Topics will usually start with a write up article.
KEY WORDS FOR SUCCESS
Author
Posts

The key words for success are 3 imp things to remember..

Tension free (not careless) attitude.
Yoga with proper diet.
Goals to be achieved…     If  u carry on the combination of these 3 points ,it will never get you depresesed and boost your confidence levels to its peak.

Your post is good, but it is too general. I am looking for a specific things to accomplish the three things. Success is relative. It depends on how it is achieved based on one's ability and capability. It would be better if it is comprehensive expounded and has a practical applications and examples.

It is too precise and too general. There are so many important things for a person to do to attain success in life. It would be better appreciated if these things are well expounded and have specific examples for us easy and practical to follow. This is only an outline of factors that could bring success to everyone.

Your post is quite shallow if you are giving points on key words of something thats as sensitive as success then i think you should expound on it more. Ĺike Gil has said it is too general. I feel that if we are to talk about success, we are actually talking about people who ha e worked for years and are now looking for ways to invest in teir lives so whatever is said should be something that will benefit people.
Viewing 4 posts - 1 through 4 (of 4 total)
You must be logged in to reply to this topic.