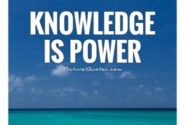 Knowledge Is Power Use...
The group is dedicated to like minded friends who would like to discuss any topic which will help us have a healthy debate and discussion and help us in becoming better human beings. Please go through the details and understand the same well before joining the group as joining the group means agreeing to the same. The knowledge thus obtained can be used for the betterment of humanity and help us in turning out to be individuals working for a common good and a better world. Respect and tolerance for others opinion and views is a basic requirement in this process members would also not make any negative comments, character defamation and use abusive language and indulge in deviant behaviour. Whoever would want to join or comment in the group would not misuse the group and stray from its objective and would not indulge in any legal cases, arbitration, suits, claim damages and the like. Topics will usually start with a write up article.
Avoid Eating Street Food Or In Hotels Especially When Summer Is Starting
Author
Posts

LOL, then why are we wasting our time here LOL

yeah, street food are dangerously contaminated under the heat.

It is best to buy food that is covered, indoors for example shopping mall where there are air conds.

Thanks for the feedback on the topic of having street food during the onset of summer.  Now that the monsoon has arrived in India, it comes with its own set of problems. Any seasonal variation requires the foodstuff and the human body to get adjusted to the same. But some basics remain the same. One can only tell watch what you eat and where you eat.

As for all my dear friends and participants who have replied keep your  valuable inputs and  feed back  coming as it that is what the article wishes to do.  Take good care of your health as "Health is Wealth". In these days of high costs  medical bills have become prohibitive and doctors too expensive. Best wishes.
You must be logged in to reply to this topic.