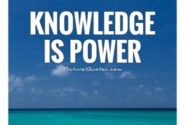 Knowledge Is Power Use...
The group is dedicated to like minded friends who would like to discuss any topic which will help us have a healthy debate and discussion and help us in becoming better human beings. Please go through the details and understand the same well before joining the group as joining the group means agreeing to the same. The knowledge thus obtained can be used for the betterment of humanity and help us in turning out to be individuals working for a common good and a better world. Respect and tolerance for others opinion and views is a basic requirement in this process members would also not make any negative comments, character defamation and use abusive language and indulge in deviant behaviour. Whoever would want to join or comment in the group would not misuse the group and stray from its objective and would not indulge in any legal cases, arbitration, suits, claim damages and the like. Topics will usually start with a write up article.
Cookery: Mughlai Double Layered Onion Mathri – Snacks
Author
Posts

INGREDIENTS

8 small onions

½ tsp jeera. Fried and coarsely ground

½ tsp black pepper, fried and coarsely ground

1 pinch jhyma (aijwain)

1tsp salt

½ cup of fresh curd

½ kg maida

1 ½  cups of white butter

½ cup of lukewarm water

½ kg of cooking oil for frying

100 gm cheese

METHOD

Cut onions finely and fry in 2 tbsp butter. When brown, grind with 100 gm of cheese. Keep aside. Knead maida nicely with butter, ajwain, curd jeera, salt and pepper. Use water when required. When atta dough is ready, make very small balls. When all the balls are ready roll 1 ball on a wodden board with the roller  once.

Apply onion masala, cover with another ball and roll twice, secure the ends. Continue till all the balls are done. Then heat oil and fry them on slow fire. When brown take them out and serve with tea, coffee or drinks.

Nutritional Information

It  consists of fats and will be a favorite with all. But it will be good to try it out during cold weather as the body would need fats and warmth and the whole fat content is utilized by the body due to the weather. Dough helps to give a filling to a stomach at least for two to four hours depending on the individual. Onions have sodium content which is essential for the body. The spices build immunity and help prevent cold and cough due to season. It is a dish wish is easier to prepare compared to other varieties where a long amount of time is consumed in preparation.

I like it very much. It is rich in fat. During cold weather, this is the best item that can be ordered in any restaurant. We can prepare it at home but it is time-consuming and involves many parts while cooking. This I have tried during my tour in Varanasi.

The temperature was about 8 degrees celsius. I could not tolerate the chill weather and as soon as the bus stopped for dinner I searched for a recipe which is good for taking in chilled weather.. I asked for Paneer Butter Masala with Kulchas. When he was leaving the place I decided to inquire with the bearer. I asked for his opinion. He suggested this recipe and informed that it is this one which is preferred by most of the tourists in his restaurants. I ordered for it.

It was very nice and he prepared the item spicy as per my request. It was really good and tasty. I could finish the entire plate with just 2 kulchas. He was looking at me amazingly. When I asked why he was looking at me he replied that I am having good eating power as most of the people can not take more than 1 kulcha.

I finished my dinner and got into the bus and felt the weather inside the bus very warm. This is really a good dish to prefer especially in a Chilled weather.

Happy to know that you could have tasted the dish and know how filling it is especially during winters in north India. Many of the dishes in our country are cooked as per the season, temperature and the weather conditions along with the kind of food which a person eats or is accustomed to. I have observed in almost all the dishes which are being cooked their is a specific purpose which it fulfills other than just filling our stomach. If I get a chance I taste different recipes and try to understand its need and purpose and why it was first prepared. It makes an interesting reading and is a educative experience. Best wishes and regards.
Viewing 3 posts - 1 through 3 (of 3 total)
You must be logged in to reply to this topic.