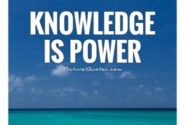 Knowledge Is Power Use...
The group is dedicated to like minded friends who would like to discuss any topic which will help us have a healthy debate and discussion and help us in becoming better human beings. Please go through the details and understand the same well before joining the group as joining the group means agreeing to the same. The knowledge thus obtained can be used for the betterment of humanity and help us in turning out to be individuals working for a common good and a better world. Respect and tolerance for others opinion and views is a basic requirement in this process members would also not make any negative comments, character defamation and use abusive language and indulge in deviant behaviour. Whoever would want to join or comment in the group would not misuse the group and stray from its objective and would not indulge in any legal cases, arbitration, suits, claim damages and the like. Topics will usually start with a write up article.
Cookery: Methi Chaman – Taste With Chapati Or Rice
Author
Posts

INGREDIENTS

500  gm methi

250 gm cottage cheese(paneer)

1 cup of curd

2 onions

1 green chilli

5 walnuts

1 tsp saunf

1 tsp dhania powder

¼ tsp red chillis

Salt to taste

METHOD: Cut and wash methi leaves. Boil it and grind in mixi. Fry pieces of paneer. Heat oil. Put in saunf and finely chopped onions. Fry to light brown. Add all masalas and curd. Cook for 10 minutes on low heat. Add paneer and chopped walnuts. Cook for 5 minutes. Serve hot decorated with walnuts.

HEALTH AND NUTRITIONAL INFORMATION

A healthy dish to be had anytime of the day with chapati's or rice. We feel more energetic when it is eaten hot. Methi leaves are very good for health and help in fighting diabetes and control blood sugar. They also aid in digestion and clean the digestive system of any impurities or toxins.

Even saunf and dhania also aid in increasing the taste and help in removing toxins from body. Onions added with curd and methi leaves, chilli and paneer add to the taste. Paneer provides fat for the body but it is light when used with methi leaves. It is healthy and tasty too.
Viewing 1 post (of 1 total)
You must be logged in to reply to this topic.