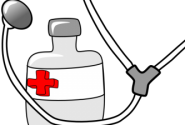 Psychotic case review
Author
Posts

DEMOGRAPHIC DATA
SM is a 30year old male who lives in Gomboru ward near Galadima Modu Sheriff resident, Maiduguri. He is unemployed and practices Islam.
CHIEF COMPLAINT:
SM was brought to the hospital by his cousin brother who complained of use of cigarette and tramadol for 4 years, and excessive spending for 6 weeks.
HISTORY OF PRESENT COMPLAINT:
Patient uses cigarette started with a stick but gradually increasing up to maximum of 6 sticks per day. Subsequently began to use tramadol (200mg to relief) pains which he claimed was given to him by a doctor in Abuja. He continues using it to achieve desired effects, graduates to taking 3 tablets per day.
Patient prefers tramadol than other psychoactive substances. Attempt stopping tramadol for maximum of a week (7 days) but due to WITHDRAWAL SYNDROME characterized by yawning, generalized weakness, lacrimation, body pain, he resumed the use of the substance(tramadol), preferred this than other social activity with associated excessive spending.
PAST MEDICAL HISTORY:
No preceding head trauma. There is no history loss of consciousness or epilepsy.
FAMILY HISTORY:
Fourth of six full siblings in polygamous setting. Father and mother are late.
REVIEW OF SYSTEM:
BP=170/110mmHg.
LABORATORY INVESTIGATION:
Urine Drug Analysis: positive for tramadol
Tetrahydrocannabinol(THC)……….NEGATIVE
Tramadol(TML)……………………………POSITIVE
Butalbial, phenobarbital(BAR)…….NEGATIVE
Opiate(OPI)…………………………………NEGATIVE
Cocaine(COC)……………………………..NEGATIVE
Morphine(MOP)…………………………NEGATIVE
Amphetamine(AMP)………………..NEGATIVE
Benzodiazepine(BZD)……………….NEGATIVE
Methyleledioxymethephelamine(MMDA)….NEGATIVE
MENTAL STATUS EXAMINATION:
Stable.
ASSESSMENT:
Mental and Behavioural disorder due to multiple use of psychoactive substance(cigarette, tramadol) with depending syndrome on opiate.
MEDICATION HISTORY:
CURRENT MEDICATIONS:
-Tabs. Ibuprofen 400mg tds x 5/7
-Tabs DF 118 30mg qds x 2/7
30mg tds x 2/7
30mg bd x 2/7
30mg od x 2/7
-Tabs Multivitamin daily x 2/52
DRUG THERAPY PROBLEM:
Additional drug: untreated condition(hypertension) due to blood pressure rise of 170/110mmHg. Amlodipine was suggested.
PHARMACEUTICAL CARE PLAN:
Goals:
Patient focus
1. Patient to demonstrate understanding of his health condition.
2. Patient to understand the dangers of using psychoactive substance(cigarette and tramadol).
3. To reverse withdrawal symptoms.
4. To improve patient quality of life.
Drug focus
5. Physician to understand the need for additional drug.
Care plan:
-Tabs. Amlodipine 5mg od for one week should be included to therapy.
Implementation:
a. Goals 1 and 2 are achieved through patient counseling and education. Tell him about the disease condition, the effects of drug abuse and how bad it can be if he continues. Educate the patient about risk involved in smoking and its risk to his current hypertensive state.
b. Goal 3 and 4 can be achieved by ensuring that adequate instructions are given on compliance to the drugs prescribed.
c. Goal 5 can be achieved through addition of Amlodipine 5mg od.
MONITORING AND FOLLOW UP:
-Urine Drug Analysis should be conducted after completing the one week therapy

why is DF doses reduces slowly??

Sorry we couldn't understand this. And we are not a doctor instead. This would be referred to the appropriate physician to analyze these things.
Viewing 2 posts - 1 through 2 (of 2 total)
You must be logged in to reply to this topic.