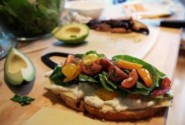 Comfort Foods…
Author
Posts

There are certain foods that we may eat/like that give us comfort.  Either it was from our childhood that we associate the food with or there's just something about the food that makes us all "warm and fuzzy" inside.

Now, I have some comfort foods that I like, but they some times are different depending on the season.  In the winter months when it's cold or I have a cold in the winter, chicken and dumplings is my "comfort" food.  My mom would make this in the winter and when we had colds.  So I guess you could say, I carried the tradition on.  Also, grilled cheese sandwiches and tomato soup.

In the hotter months of course, I like ice cream!  I also like salads.  But in the summer or warmer months I don't like eating hot soups!!  When I'm watching movies my comfort food is popcorn.

What are your favorite comfort foods??

Hi!

Is that photo that you had uploaded- is Chicken dumpling soup?

Looks very comfy and nutritious.

Yes, I love ice-cream too on hot days.

However, I can't take the whole tub because my teeth aren't strong enough to resist the coldness.

So, I would buy McD ice cream cone, vanilla flavor and gobble up the whole ice cream cone in 2 minutes!

When I am down, chocolates would be my comfy food. It helps me to feel better but I don't take the whole bar, just 1 snap of it.

Some people love Chicken Noodle Soup colds and runny nose but I prefer hot porridge with minced meat and peanuts.

Chinese love porridge, hot and comfy.

@peachpurple, yes that photo I downloaded is a picture of what the dumplings look like.  Some people call chicken and noodles dumplings, but those in the picture is what I consider dumplings!

Yes, comfort foods for when being down is chocolate for me too or a cake  or pie!! lol

@peachpurple Your porridge with peanuts and minced meat sounds interesting. Do you make it with rice, or with some other grain?

Most people here think oats when they hear the words "porridge," but my mother grew up eating a cereal called Red River. It's a blend of grains that includes wheat, rye and flaxseed. She always said there was millet too, but it doesn't seem to be part of the recipe.

Personally, I like a good bowl of oatmeal but I really love cream of wheat (farina) and cream of rice porridge.

@4cryingoutloud Do you make your chicken any particular way when you cook this dish? My mother always used to buy a canned or jarred chicken, only for when she cooked chicken and dumplings. I'm not even sure that she knows why (probably my grandmother used chicken she'd canned…)

I don't make dumplings with plain stewed chicken very often, but I do love them! We usually make them to go with a thick chicken soup or a beef stew. They are always gobbled up far too fast!

@ruby3881, I just boil my chicken with with seasoning, like poultry seasoning, lemon pepper, etc.  When it's done, I then take the meat off the bone, add to the seasoned water and add chicken bouillon cubes, carrots and celery.  Then boil it to boil the dumplings.

You might laugh on this one but my favorite comfort food is rice with powdered milk, sugar, and warm water. That is my comfort food ever since I was young. It makes me literally say to myself that everything will be okay once I start eating it. Chocolate could be, friend chicken could be, but without a doubt, it will be rice with powdered milk, sugar, and warm water. I think I already posted this on my blogging sites, oops, our blogging site.

[caption id="attachment_2525" align="alignnone" width="300"] Photo is mine[/caption]

@grecy095,  I like rice with milk/half and half cream with raisins and cinnamon and sugar!!  I haven't had this in a long time, but it's comforting too!! 😉

gosh, that is a unique comfort food.

Mixing rice, milk powder and sugar?

Never heard of it before!

Gotta try it out.

Is it overnight white rice or hot warm rice?

So how often do you consume this comfy food?

yes, I love oatmeal too, with MILO and a little brown sugar.

Sometimes I would toss in raisins ( sultanas ) and red cherries or slices of bananas.

My son have oatmeal every single day!

He has it for breakfast and indeed it helped his bowel movement a lot.

He could poop every one or two days without any constipation problem.

Oh yes about the porridge, I add minced meat, raw white rice -plain rice not cooked yet and raw ground peanuts. Add into a pot of water and start boiling.

I makes a lovely combination, crunchy and filling.

I will be posting a blog about it soon.

Thanks for reminding me

Cheers

@grecy  That is not weird at all. When we would have rice, whatever was left my mother and I would eat it with milk, sugar, and nutmeg and it was lovely. I have not had it in a long time though since I rarely have any rice left because my children love rich. I like the nutmeg with it because it has a nutty taste to it.

I love oatmeal too and will mix brown sugar into it and add some milk too. Cream of wheat is good with some brown sugar in it too. I like this once in a while. I am not much for cereals for some reason.

My mom always would make chicken and dumplings, but we would not eat it as a soup. My mom would use the pressure cooker to cook the chicken and then would season the water with bullion after she took the chicken out. We would use an egg noodle recipe for the dumplings and just drop them by spoon into the boiling water. She would then use flour salt and pepper to coat the chicken and then fry it. This is so good and my children love it too.

I would have to say that chocolate is another comfort food for me too. I could eat chocolate every day all day long if I could.

@peachpurple now it is not new to you. You can do it at home. Actually, when we have a meal and I don't like the viand, I will be escaping the dining area and will eat hidden in the kitchen that comfort food of mine. I survived a meal. I have been doing this since I was young.

@4cryingoutloud cinnamon is interesting, I need to try that one too.

@morgoodie I haven't tasted nutmeg. Is that a biscuit. Sorry for that one. Or is that a nut? I only eat oatmeal with brown sugar and lots of milk too.I don't eat oatmeal plain, I need to put something on it. Some people are eating that plain. Anyhow, I am not really a fan of oatmeal and I don't know why. This is a healthy fiber food.

I don't have a comfort food.. 🙁

I only am addicted to coffee.. I would roll my eyes every single time I'm refilling my Nth cup of coffee for the day. That's the one thing which makes me feel good inside…

@Grecy Garcia  That's unique. It's a simplified version of an Indian dessert 'Kheer'. My comfort food is chips or noodles or perhaps anything I can munch on when I am feeling low. I prefer salty and spicy snacks as my comfort food.

There are foods that i have grown up loving, but right now as we speak those foods cannot even get their way into my mouth because i don't like them anymore. but if there is a favorite food that i love it is rice and french fries i can eat those two foods daily without getting bored of them. then i also love my tea as well not a day passes by without me having at least 2 of those foods.

I never used to like oats when i was younger but my mum always made it a must to have them, then we also had porridge in the mix as well, and i guess that was mandatory to us though it was very nutritious for growing kids.
You must be logged in to reply to this topic.