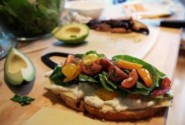 Add some super seeds to your meal
Author
Posts

Add some super seeds to your diet chart to keep your health good:

sunflower Seeds: Rich in vitamin B and E, folate, magnesium and selenium. Prevent birth defects and protect cells from damage, prevent risk of early death from cardiovascular disease, control cholesterol level, prevent thyroid problem.

Sesame Seeds:  Rich in calcium,iron,manganese, zinc, fiber, thiamin, vitamin B16, folate, protein and tryptophan. Help to build strong bones and digestive system, prevent diabetes,  lower blood pressure, prevent a wide variety of cancers and help proper muscle functioning.

Pumpkin Seeds:  Rich in vitamin B, iron, magnesium, zinc and protein and omega-3 fatty acid. It lower anxiety and keep heart healthy, limit bad cholesterol, and keep the blood vessels healthy. It is an anti- diabetic, keeps liver healthy, offer a good sleep.

This is a useful information. I know sunflower seeds and sesame seeds. But not which Pumpkin seeds you are talking about. Pumpkin will be available in 2 varieties. One in Red color and the other in Grey color. The red color pumpkin seeds have sufficiently large seeds. When we open them there will be seeds in blackish-grey color. These are very useful and can be used in almost all varieties of sweet preparations in India..

@Barnali sarkar, we only used to eat the bigger variety of pumpkin seed alone as a snack and not added on our menu or the ingredients as well as the sunflower seed. When I'm cooking for our viand, I'm adding some sesame seeds to boast the flavor of the food I'm cooking. But this gives me a thumbs up because I don't even know that pumpkin seed is for anti-diabetic. My uncle is diabetic and I'm a little struggling on what foods to give him. Thanks for the info.

@ sivasubrahmanyam shatdarsanam, we also have the grey color of the pumpkin seed here in the Philippines, we usually fry it on the pan to make a delicious homemade snack. 

@shivasubrahmanyam

whenever I eat pumpkin seeds, firstly, I wash it thoroughly, then dry it and lastly roast it and sprinkle spices on it  and take it as a crispy snacks.

The 2nd method, I wash and dry it  and take out it's soft seed and the eat raw or cook it with other vegetable or  dal.

@Tita

Take this seed in regular basis. You may take it as snacks by roasting, or you may use it by cooking with other veg or dal. Open the seed shell and get just the soft seed in it and have it happily.

All of those seeds make great salad toppings!  Also, flax seed is good but you have to grind them and sprinkle.  The seeds are also good in muffins.

All those seeds you have mentioned are readily available in our country, but i cant say that i have eaten them as such. Sesame i have eaten and i love them. Then i have also eaten sunflower seeds that are really yummy. This i used to do for the fun of it really, not for the benefit of health as such because i was a child then. But right now that i know and am aware of the benefits they bring i would gladly add them in my everyday diet. Good ideas indeed.

@Anitah Gimase

You said true, They are really yummy. You may also try Pumpkin seed also. It is a good snacks.
Viewing 9 posts - 1 through 9 (of 9 total)
You must be logged in to reply to this topic.