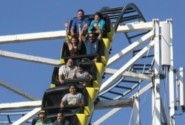 Fear…
I think most of us have some fears or fears that are strong even they could be considered phobias. I've heard that if you confront your fear, you can get over it. I "use to" have a fear of chickens, flying in my face. Recently, I conquered that fear, I can go in the pen or chicken house with our chickens.
Now one fear, I don't think I'll be able to conquer if the fear of heights!! I can't high enough up anywhere to conquer that fear!! lol
Do you have fears? What are your fears?
Morbid fear
| | |
| --- | --- |
| Author | Posts |
| | I think this is the fear of the dead. am not quite sure but I from way back I used to read a book that spoke on morbid fear and I gathered that they is the fear of the dead. I never used to have the courage to see a coffin leave alone look at a corpse that just wasn't for me, I couldn't stand the idea of even getting close. I always thought maybe the corpse could wake up and open their eyes, but I guess I kind of got rid of the fear when my dad passed on it was the hardest thing ever for me to do but I had no choice |
Viewing 1 post (of 1 total)
You must be logged in to reply to this topic.