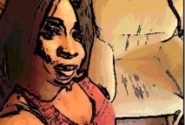 Why now?
Author
Posts

We ve been together right from our school days got married and Gods blessed us with two kids boy and girl….but the worse part is I born my lil baby girl with C-section every thing was smooth and fine till when I started develops some stretch marks in my Arms and laps and on my tummy. Cos of the c-section I got myself tucking tummy. Like that is not enough he has been complain about my saggy Brest says my body is not in normal shape as it used to be before.but to me seen my new look make me proud of good mother I am cos I get all this through my child labour .and I still love my man I want to keep my marriage  Or tho he may have pissed off cos of the  way I look . Plus size 😜not that skinny lady he always seen before but a mother or would I say a thick woman. Can I go for surgery to please my husband with the good shape he always want just to keep my marriage?

Women's bodies go through changes while pregnant and afterwards. Some of us are lucky if we are able to keep the same shape we had before getting pregnant. Unfortunately, I am not one of those lucky ones. I gained a lot of weight after having my fourth child. No matter how many diets or how much exercise I do, it's hard for me to lose weight. I am now divorced since my ex could not stop from cheating. Men who have issues with how a woman looks really have issues with themselves.

I am still trying to love or even like how I look. If you aren't happy with the way you look then why would anyone else be happy?

I was sadden when I read your post to see that your husband complains about your breast sagging. I understand that we all have things that we like about our spouses but I believe that it is all in the delivery. He has to understand that this is not something that you could have controlled. These things happen sometimes when we give birth and he should be more understanding. I did notice that you posted this 2 years ago and I do hope that things have changed since. Hopefully I hear back from you.
Viewing 3 posts - 1 through 3 (of 3 total)
You must be logged in to reply to this topic.