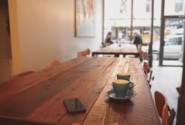 Do you prefer Western or Local Cuisine?
Author
Posts

When you dine out in restaurants, do you prefer Western cuisine or Local Cuisine?

Western cuisine such as lamb chop, pork chop, chicken chop, fish and chips are the regular food found in the menu.

Western cuisine cost 3x more than local cuisine but it is much healthier compare to local food.

Bake, grill or roasted meals consist lower fats compare to stir fries and deep fries like Chow Mien, Fried Rice and Coconut Rice Milk ( Nasi Lemak ).

My family would choose 2 types of food, 2 Western and 1 local where we can share the food among ourselves.

I would request for extra plates  so that we could remove half portion of each food and we could enjoy both Western and Local cuisine at the same time.

I prefer local foods and places to eat.

Well, since I am in a Western country, I guess it depends on what I have the craving for. I get tired of hamburgers and french fries. So I like to try something different. In my little city, we don't have many choices besides American food, a few Chinese places, a few Italian places, one Indian restaurant, one Lebanese joint and several Mexican places. I get tired of eating the same stuff over and over again. I do love to eat Chinese and I love going to eat at the Lebanese place. But I always end up hungry later. I cook my own Mexican foods at home. I guess I could start learning new recipes altogether.

It's not that I don't like local cuisine because I have had much of it in our region. So when I have choices, let me pick the western cuisine for me to have a taste of their good food, great taste and the yumminess in every bite that I can have. So I guess, the answer is clear, YES.

I love my local cuisine at anytime that is what I was brought up with and that is what I am used to having. But I do t really mind trying other cuisines from other countries. I like being adventurous not so much with food, but trying is not bad. I sometimes feel if I eat foreign food I may not like it but there is always a first time to everything. So I can't really say that I prefer wastes cuisine to my local cuisine it's a matter of trying.
Viewing 5 posts - 1 through 5 (of 5 total)
You must be logged in to reply to this topic.