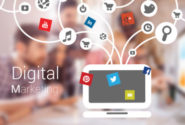 Digital Marketing Grou...
Digital Marketing group cover all areas of the digital marketing landscape and include topics such as social media marketing, mobile marketing, search engine marketing, online PR, email marketing, online advertising, measurement and web analytics, best practice digital marketing and marketing in general.
This group is created to have a healthy interaction and knowledge exchanges about best practices, case studies pros & cons followed in various industries.
Lets go Digital
Which Search Engine U submit your site?
Author
Posts

They have been on the internet for number of years and I believe all are at least 10-15 years old and oddly enough, they're some of the biggest secondary search engines on the internet. Be it #yahoo #altavista #dogpile #entireweb #bing and so on.

I want to know from the bloggers and marketing folks here which are the best search engines to submit your sites for free. Do mention how much effective they are, since most the sites I submit to, do not sent any traffic to my sites.

I have mostly used Google, but I have also tried Duckduckgo.com and startpage.com recently. Earlier Yahoo was also one of my favorites.

@Peeush – Are Duckduckgo.com and startpage.com effective ?

I am looking for more options here, anyone? Please refer me more free search engine submission sites.

most of the time i use Google URL submit, Bing and the rest I share at Facebook twitter, Googleplus, Tumblr, Linkedin

I noticed that Google plus and Linkedin helped to bring in external traffic, others are almost nil
Viewing 5 posts - 1 through 5 (of 5 total)
You must be logged in to reply to this topic.