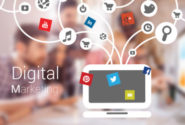 Digital Marketing Grou...
Digital Marketing group cover all areas of the digital marketing landscape and include topics such as social media marketing, mobile marketing, search engine marketing, online PR, email marketing, online advertising, measurement and web analytics, best practice digital marketing and marketing in general.
This group is created to have a healthy interaction and knowledge exchanges about best practices, case studies pros & cons followed in various industries.
Lets go Digital
How to Use Facebook Page Engagement Custom Audiences?
Author
Posts

This is a very common question asked to me by my clients, it easily crops up in anyone who knows how to use Facebook.

Want more ways to re-target people on Facebook?

Have you heard about Facebook's latest custom audience features?

Facebook's newest custom audiences let you target people based on their engagement with your Facebook page.

In this article, you'll discover how to build six new custom audiences based on Facebook page engagement.
Viewing 1 post (of 1 total)
You must be logged in to reply to this topic.