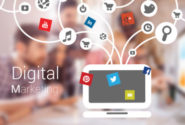 Digital Marketing Grou...
Digital Marketing group cover all areas of the digital marketing landscape and include topics such as social media marketing, mobile marketing, search engine marketing, online PR, email marketing, online advertising, measurement and web analytics, best practice digital marketing and marketing in general.
This group is created to have a healthy interaction and knowledge exchanges about best practices, case studies pros & cons followed in various industries.
Lets go Digital
How long do u think FB will dominate ?
Author
Posts

Almost everyone has a Facebook account these days, with more than 800 million users and valuation of $ 20 billion. It is currently the most widely used social network ever, simply unstoppable.

Mark is very shrewd businessman launching and initiating changes frequently to keep the interest of the users. The algorithm of the Facebook is changed frequently and the new features introduced in other social networks are introduced in no time on FB. This is what makes the site so very popular and engagement is high. The average time spent by the user has gone up from 10 minutes to over 40 minutes in some geographies, which is really astounding.

With such huge setup, valuation and user friendly features, do you think Facebook will ever fizzle out and will be taken over by someone ? Need your logical thoughts.

For next 5-6 years, I believe facebook will maintain its dominance. Someone might close the gap, but experiments like Tsu will in all likelihood fail.

Facebook has long term plans. With more then 1.6 billion users, its not going to give it easily to its competitors. I think pay sites wont reach that level as there is  lot of negativity associated with it, best eg was TSU.

So i guess your estimation of 5-6 years can be true. I feel not more than next 2 years.
Viewing 3 posts - 1 through 3 (of 3 total)
You must be logged in to reply to this topic.