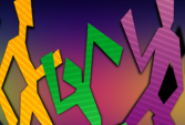 Flag Day
Author
Posts

Today June 14th is Flag Day here in the U.S.  People in the U.S. celebrate by proudly flying their flags and even having celebrations.

Flag Day all started by a school teacher in Wisconsin had her class honor the flag resolution in 1777.  Then Presidents got involved and finally in 1949 it was designated, June 14th as a holiday!!
Viewing 1 post (of 1 total)
You must be logged in to reply to this topic.