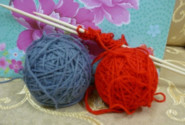 Handwork
According to the dictionary, handwork is work done with our hands, but not by machines. This includes drawing, painting, crafting, crocheting, knitting, sewing, woodworking, cooking, soap making, etc.
Let's share what you are interested, what you are working on or just anything about handwork!
Share your handwork here!
Author
Posts

@kaka135 I am keeping my hair long this year because I want to have it curl on the ends by December. Yes, I am addicting to braiding and I love to continue this braiding because I want to do it with my friend's hair too.

@morgoodie there are lots of people posting handcraft at Pinterest and no wonder you are fond of it.

@grecy095 I am sure your friends would love it when you help them braiding their hair.

Pinterest is really a good place to find lots of handwork information. The more I browse the pin boards, the more types of handwork I found, and I am really interested to learn them all, but of course I can't make it now. But I will follow what @morgoodie suggested, write a to-learn list. 😀

@kaka135 and there are lots of pins about braidings too. I used to save pictures coming from Pinterest, Instagram and Tumblr. There are lots of ways to braid hairs and I am super interested about this.

@grecy095 That's good. Pinterest seems to like a treasure hunt, and there are so much treasures for us to hunt for. 😀

Perhaps you can share some of your braiding work with us too. 🙂

@kaka135 treasure hunt is a perfect term for Pinterests. I try to check every day for handwork and handcraft there and I guess the second place talented and skillful individuals are staying is on Pinterest.

I have several interest and flower arrangements is one of them. I had an exhibition a few years ago with free style and ikebana flower arrangements. I hotel bought quite a few of them.

Here's one:

Here the emphasis is given to a croton which does contribute to an exquisite arrangement and you will see there are no flowers.
You must be logged in to reply to this topic.