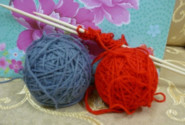 Handwork
According to the dictionary, handwork is work done with our hands, but not by machines. This includes drawing, painting, crafting, crocheting, knitting, sewing, woodworking, cooking, soap making, etc.
Let's share what you are interested, what you are working on or just anything about handwork!
Flower arrangements
Author
Posts

Flower arranging is an art and quite a few here must be having it in them and making great arrangements specially for festive occasions. I created this arrangement for one Christmas

As I have already mentioned elsewhere I had a flower arrangements exhibition a few years ago

Do share yours

I learned flower arrangement during college and the subject was Culture and Arts. I got a flat 1.0 grade because my teacher was so impressed of the way how arranged red roses mixed with white camias. I learned my teacher was a spinster.LOL.

@Cely what has that got to do with our teacher being a spinster? (lol)
Viewing 3 posts - 1 through 3 (of 3 total)
You must be logged in to reply to this topic.