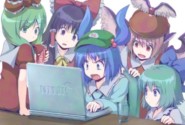 Personal list of all time top Anime series.
Author
Posts

Hello, Let's spirit up this forum section! It deserves! Anime had a lot of positive influence over my character development lol. Some people are really addicted to anime, including me. I won't keep that one a secret. By the way I will share my personal opinion and list of Anime series that I consider are the best anime shows in all time!

1. Dragon Ball Z

A continuation of the first released anime in this franchise, called Dragon Ball. This time Goku is back with his new son Gohan, but just when things are settled down, the adventures continue. Whether he is facing enemies like Frieza, Cell or Buu, Goku is proven that he is an Elite of his own and discovers his race, Saiyan and is able to reach Super Saiyan 3 form. He meets many new people, gaining allies as well as enemies, as he still finds time to raise a family and be the happy-go-lucky Saiyan he is.

Wonderful anime, this anime raised my courage and made me believe in myself in many aspects and ways.

IMDB rating: 8,8  My rating: 10/10!

2. Naruto

If you have a free week or two, then Naruto is definitely an anime that is worth giving a try. Konoha academy, ah we all wished that to be real. Many people are so passionate about this anime, it is not only for kids, but a lot of adults are watching it too. In case you haven't heard yet, in a Ninja world, Naruto is a hyperactive knucklehead ninja. He struggles to find his place in the village he lives in, as he is called the "Demon Fox" due to an incident that happened many years before his birth. An uncontrolled 9 Tail Demon Fox have appeared in the village, waging chaos and destruction everywhere,  taking a lot of lives. To protect the village,  the 4th Hokage confronted it and sealed it into a newborn baby, called Naruto, the main protagonist. As a consequence to that, he lost his life. The ignorances and resentments that he is getting on a daily basis, are the result for him to be so restless and  naughty. Leading him to do mischievous things around the village! His biggest goal is becoming a Hokage, and prove everyone wrong one day!   It is definitely worth giving this anime a try. Remarks: My only negative remark is that this anime has a LOT of Fillers. I would not recommend you to skip them, after all they are the icing of the cake. You could learn something additional if you give them a try too.

IMDB rating: 8,2/10    My rating: 8,5/10

3. Dragon Ball Super

Reuniting the franchise's iconic characters, Dragon Ball Super will follow the aftermath of Goku's fierce battle with Majin Buu as he attempts to maintain earth's fragile peace. The continuing adventures of the mighty warrior son Goku, as he encounters new worlds and new warriors to fight.

 

After the ending of Dragon Ball Z, this is another major success in Akira Toriyama's career. Definitely worth a watch! Many new appearing of new stronger than ever imagined characters will lead to a conclusion in Goku and Vegeta's minds, and lead them to a new powering up state, called Super Saiyan God. New universes, new God-like creatures, unbeatable villains, unlikely alliances..  I do not want to spoil it, as I don't have anything to say except separate some time from your free time, and definitely marathon this anime in one week. The positive thing is that this anime aired last summer, and It's Ongoing, providing the best episodes for us FUNAnimation releases only 1 episode per week, 55 episodes in total. The next episode is airing tomorrow, hurry up and catch up with the current pace!

IMDB Rating: 8,5     My Rating: 9,5/10

4. My Hero Academia

In a world populated with superhumans, a superhero-loving Izuku Midoriya is without power. However, after the Quirkless dreamer Izuku inherits the power of the world's best superhero, All Might, his hopes of becoming the top hero are now possible. Once enrolled in the High School for heroes, A.U. As it appears Izuku soon discovers that it takes much more to be a hero than he has imagined before.

New but Perfect anime. Only 13 episodes. Season 2 airing at the end of this year. Probably November/December.

IMDB Rating: 8,5/10      My Rating: 9/10

Alright, stay tuned for a next upcoming list of Top 10 Anime Series in 2016, having the opportunity of discovering the latest Anime series. I hope you enjoyed reading this list. Have a great day!
Viewing 1 post (of 1 total)
You must be logged in to reply to this topic.