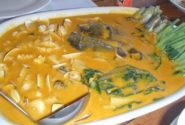 All About Flavors
In this group, it is recommended to share your favorite foods in different occasions just like Christmas, weddings, debut,christening, birthdays and so many more. Share your recipes as well as your experiment foods that you know a success. If possible to add photos then make it happen. I just love food and I know, You are too. Join and see the different flavors of different countries in Literacy Base.
HOW TO PACKAGE VEGETABLES FOR EXPORT
Author
Posts

First Things First_research
To Export, However, A Prospective Farmer Must First Do His/her Home Work And Must Be Ready To Commit To The Rules Of Engagement In The Business.
"export Business Is A Commitment For A Long, Long Term. Know Your Strengths And Go For It, "the NEPC Counsels On Its Website
"your Starting Point Is: 'where I Am Going To Sell, What Am I Going To Sell, And What Are People Going To Buy?' There's An American Farming Adage That Says 'if You Can Sell It, You Will Sell It.' And That Is Where Agribusiness Starts From , Who Will Buy? Once You've Sorted Out Who Will Buy, You Need To Sort Out How To Produce, Your Production Mechanism. Once This Is Sorted Out, Then You Will Have To Sort Out Your Logistics. Don't Forget, The Export I Do Is Perishables, So You Need To Understand The Production Techniques. If You Don,t Understand The Technique Of Production, Then You're Going To Run Into Problem,
From The Production Point To The Market, A Set Of Requirements Must Be Met Which Assures The Quality.
Viewing 1 post (of 1 total)
You must be logged in to reply to this topic.