The seventy-year-old President Donald Trump, whose selection has caused a political shock around the world, is still impulsive, instinctive and unpredictable, but admits with a hint of naivety and shrewdness that he had realized that there was a tough job waiting for him once he entered the White House as a President of the most powerful country in the world, the United States of America.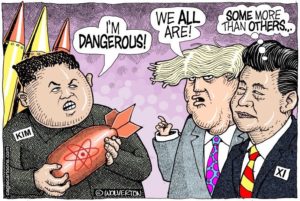 The first 100 days in office of President Donald Trump spent jitters, according to Reuters. He showed that he can change the tone and attitudes, but still manages to create a clearly articulated policy and develop a presidential style.
When it comes to China, Russia or NATO, its 180-degree turn partly pacified the country and US allies. But such an approach is followed by risks. From Syria to North Korea, how much risk the US will be drawn into a military conflict with unpredictable outcomes that warning during the campaign? As a Republican president, How would Trump react in a case of a terrorist attack on American land? After more than three months in power, many of his critics believe that the portraits Philip Roth brought in New Yorkey are still valid. He wrote that Trump is a president who knows nothing about governance, history, science, philosophy, art, not able to express or recognize nuances and using "dictionary of 77 words." Donald Trump, who regularly mentions the possibility of a second term, has more than 1300 days ahead to complete this term.
Also In just a few weeks judiciary and Congress has dealt heavy blows dismissing his executive decree migrants proposal to reform health insurance.
Trump has also said that he changes, he is flexible and proud of it saying it prior to carrying out the air strikes on the Syrian regime on charges that he used chemical weapons against civilians.