New Blog Post
This is the most important task of our website. Because you can make most money from this task alone.
Write whatever articles that comes in your mind, but make sure you write or post in English language. The content should be your original one and should follow our content policy.
Minimum of 300 words in length.
Depending upon the quality and the quantity of your content you can earn more.
Caution: 
Please do not try to copy and past articles from Internet to Literacybase, This is known as Plagiarism. Our Moderators are constantly checking each and every articles for Spun and plagiarism. If we found any of your articles Spun or plagiarized then your account will be disabled without any warning. So, before posting articles make sure it will past all plagiarism tests. 
You can use plagium and plagscan free service to check your article before posting here on Literacybase.  However you can use Internet to do research before writing any article but putting the same Information just by changing sentence will not be acceptable. You need to do proper research about the topic that you are writing about and share your point of view about the topic and share your experience alongside.
This is we need and that is what makes the article full of quality.
How To Earn Most Out Of Blog Post In Literacybase?  
This is the most common question that we have ever come across, We have always  been asked what to write and what makes the article more quality? as we are always emphasis on a phrase quality and quantity will make you more money. Which means if your article is enrich in both quantity and quality wise you will ultimately make more bucks. So, how to turn our normal blog post into quality blog?
Here I am sharing you the quick tips of How to make your Blog post into Quality article for Both Search Engine and Social Media.
It has been observed that whenever we talk about Search Engine Optimized article, people often misconfused the concept and think that SEO article is having knowledge of keywords and how to search and embed them in your article to make it work. But this is not a case. High Quality article always consider their audience, always prefer your audience and write for them. try to make it as easy and joyful as possible. This leads to our first rule tip.
1. Write For People Not For Search Engine
Never put too emphasis on how to write for search engine and article keyword, Write for your readers make sure the concept you are presenting is simple and understandable.
2. Title : Always Use Catchy Title or Headings.
Believe it or not but title is the key and the first part of your Search Engine , Social Networking and your direct readers. So, do not limit yourself to small titles, try to make title little longer which is also known as long tail title. This type of title contains the whole concept itself about the topic of your article. Let's take an example:
If you are talking about famous Quotes of Mr. Amitab Bachan (Indian Actor). So there are many ways to write tites.
Simple Title : Quotes Of Amitab Bachan Or 10 Quotes Of Amitab Bachan  (Not Quality)
Catchy Title: 10 Famous Quotes of Mr. Amitab Bachan that proves, Why He Is the Shehansha Of Bollywood!

(Quality)

Simple Title :2017 Golden Globes  

(Not Quality)

Catchy Title:19 Moments From The 2017 Golden Globes That You Should Know About 

(Quality)

Simple Title :Avoid Negativity  

(Not Quality)

Catchy Title:8 Amazing Ways To Focus And Avoid Negativity

(

Quality)

Simple Title :MS Dhoni Left Captaincy 

(Not Quality)

Catchy Title:Reason Why MS Dhoni Left Captaincy In Jan 2017 Is 100% Unguessable

(

Quality)
So, now you tell me which title is persuading you to read the article or you are most likely to read? these are some of the examples we can share many more examples like these. This is an example to give you an idea how long tail title with completely catchy phrases will make the difference. And make them both Search Engine and Social Media Friendly.
Also you have noticed that all these are in InitCap (Initial Capital) which means first alphabet of every word is Capital and rest are in small letters. This is also import. Cause this will create more professional look while sharing.
Sometimes people refrain from your website or title when they found in search results and in their social news feed just because of these improper formatting of titles. either people left all letters in small or all in capital that gives cringing feel of the post. At the end if you don't have Quality Title Heading then no matter how good your article is you will not make any impact on people who will redirect to any other post at first place.
2. Use Interesting & Relevant Feature Image (Thumbnail)
You heard me right, no matter how interesting your title is, how good your content material is. If you don't have highly quality feature image or in other words post thumbnail then you are most probably missing the vast audience. In this most influential age of social media, many websites are driving their majority traffic from social media sites such as facebook, twitter, google+, flipboard and so on. Now this has become the most important part of your article to have extremely appealing blog main Image.
However it has been found that mostly people just grab an image from any royalty free stock image website and post with their articles. sometimes they do capture images so they don't have to violate any copyright law. But they often miss the Important parts such as the dimension, relevancy and providing catchiness to attract audience.
Size & Dimension :
it is recommended to have the standard size for all feature images so it can appeal to your article and work perfectly as a thumbnail on other social media platforms. so following size is considered the best:
There are many software out there both offline and online to edit or create your own custom thumbnail. Such as Snappa.io , Pixlr and offcourse Adop Photoshop. You can also use windows Painter to create and manage.
How To Make Them Appealing
Relevance is import here and at the same time you have to make it more attractive and full of Information that this will create appeal to your audience. We the people are visual consumers, we often till towards visual data that fascinates us.
Put Many Pictures All together: This is one of the best strategy that online publishers use to put many relevant pictures into one which provide engough exposure about the articles itself. for example.
Step1: Click on WRITE HERE tab at top and then click on POST NOW.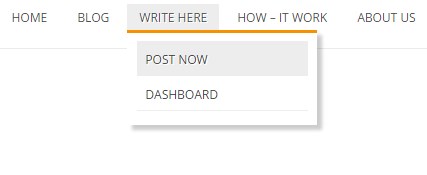 Step2: Write the title of the blog and then the contents. You can also insert any relevant picture, but make sure it is not copied from anywhere. Select the category of your post from the drop down menu. If you can not find the category then select "uncategorized".
Once you are done with your article then click on submit button.