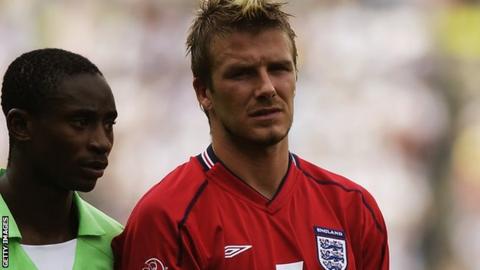 Femi Opabunmi was just 17 when he faced England and David Beckham at the 2002 World Cup
Femi Opabunmi became the youngest player to represent Nigeria at a World Cup when he faced England in 2002. But just four years later his career was over, finished by an eye problem. Here he tells BBC Sport how the end of his football dream left him considering taking his own life.
I was 17 when I played for Nigeria at the 2002 World Cup – the youngest player at the tournament. I played against England – David Beckham, Michael Owen, Paul Scholes, all of them. But three or four years later the story changed. One minute flying; the next minute down.
My eye problem started. I went for surgery. They said I have glaucoma. Everything changed. Things just got worse and worse and worse. I only see with one eye now.
I woke up one morning and found out that I couldn't see well. I just saw cloud and had to go the specialist to check. That's when they told me I had to have an operation. After the operation, the problem remained the same.
Now I can only see with my left eye. I can't see anything with my right. But I thank God that I can still see with one eye.
Giving up football is a very painful thing. Sometimes you think that maybe you should kill yourself. You think a lot, especially when your mates are still playing. You look at them and you shed tears. You feel bad. But in any situation, you have to be stronger.
Life is full of ups and downs.
I think back. I think a lot about when I was the second top goalscorer at the Under-17 World Championship in 2001 – and third best player. And I was the youngest player to play in the World Cup in South Korea and Japan.
Sometimes I think: "What is this life about?' I summon up the courage and I say: "When there is life, there will be hope one day."
I put my hope in God. I keep on going. There's nothing you can do.
Sometimes I will say: "I don't think there is God in this world." But my wife will give me the courage and say I should not say a bad word towards God, that God knows the perfect time and will answer everybody. Maybe God protected you from some dangers, you don't know.
The lowest moment for me is when I have my challenges – that I can't play football when I'm still active. It's a painful thing.
I've learned a lot of lessons because nobody knows tomorrow. You can say you can play this game for a long time – and something will come up and shorten our career.
I made a lot of money – true – but it's money I spent on my eye problem. I want to tell the young players coming up that they should always think of tomorrow in life, whatever they do.
And they should always invest – and take my own story as an example, to learn.
Femi Opabunmi was speaking to Oluwashina Okelegi for this week's World Football show, presented by Mani Djazmi.