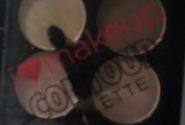 Best makeup diy and br...
Okay ladies this is for you. Men I warn u not to read unless your bored of course.ill be posting all the dyi and brands for make that I know. And would also like you ladies to share your ideas too. If your like me your really into make up and into saving money when u can't go out to grab the brands you need.from using non toxic coloring pencils for lipstick and eyeliner to making your own eye shadows.( You can take the coloring pencils dip in warm water for just a few minutes and BAM you got eyeliner,lipstick and eye shadow.and if your into using liquid eyeliner for the cat eye look. You can use fingernail polish( use your original eyeliner brush) and dip it into the nail polish and it stays on as long as these high priced liquid eyeliners.(be sure to pour the polish on to something so that way when you dip the eyeliner brush into it you want get to much on it. It's very simple and you don't wanna chance getting into your eye. So once again just pour the polish on to an old plate or something similar, dip the brush to receive to enough to wear it's not dripping off the brush. I love using when I'm out of my originally L'Oreal eyeliner (stays on even longer and saves money) washers right off the eyelid with no problem because of your natural oils.
Best makeup diy and brands
Oh bother! No topics were found here!
You must be logged in to create new topics.