Eating has always been a fun thing to do specially when you are with your friends! Pampanga, a province in the country Philippines is known for it's famous and delicious cuisine making it remarkable as the "culinary capital of the Philippines". The Philippines was colonized by the Spain. A lot of cultures and practices from the way of clothing to religion and habitual routines were in influenced by the Spaniards. From these The Filipino people were used to the adoption they been into. According to the history of Pampanga, The Spaniards were the first person who gave them an idea to cooking. They were the ones who first taught them the basic way and techniques of cooking. The People in Pampanga used these simple methods taught by the Spaniards. They applied this to their daily cooking habit and even improved the flavor and aroma, they haven't just stopped there from the improving taste to the main dishes. The people of Pampanga tried different kinds of animal meat and even insects! For their unique cooking. making them known as good cooks.
Here below are some of the famous dishes invented by the people of Pampanga that you will surely be curious of and might make you want to go here in the Philippines and have a taste of them.
1) Buro
– This is the people of Pampanga's way of preserving or fermenting cooked rice. This is sour but flavorful in taste. This dish is partnered with grilled fish or pork or even vegetables like gilled eggplant, grilled gumbo , bitter gourd etc.
2) Adobong Puting Daga
– Adobo is a famous and delicious dish in the Philippines this is originally made with either pork or chicken meat. But in Pampanga instead of using pork or chicken meat, they chose to use Rat meat! But don't worry! This rat met is edible. This Rats are the ones in your houses or canals. This Rats are found in farmlands they eat grains and crops. The meat of this farm rat is also as good as pork or chicken meat. This meat is seasoned with garlic chives, laurel leaf and Vinegar.
3)  Pritong Palaka
this is also one of the exotic food in Pampanga, this are frog washed with scramble eggs and coated with bread crumbs and fried in boiling oil. The frogs used in this dish are also edible because these frogs are not like any other frogs you can see from canals and streets. These frogs are alsoo found in rice fields and farmland so basically this frogs are clean and not poisonous. The taste is also flavorful like any other Fried chicken but the difference is it is more flavourful. This is deliciously serves the tasty "sawsawan" made from vinegar with garlic and any other condiments.  
4)
-this dish may be fried, sautéed or in adobo too. You need to be brave enough bofore eating this insect dish lol. "kamaru" is the term called by the people in Pampanga. It means "crickets" so basically the main ingredient for this weird dish is cricket. So this is a must try food for you when you visit Pampanga, Philippines! No turning back!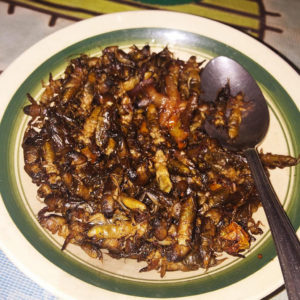 5) Pindang damulag
is also one of the most famous food in the Philippines that was originated in Pampanga.  This is also Sour yet sweet in taste because it is Preserved Carabao meat. This is endearingly delicious and flavorful when preserved for a long period of time.  This is best eaten with freshly chopped tomatoes and Fried rice. Once you went here and was able to taste it? I'mm sure you'll like it and you'll crave for more!
6) Sisig
This is The best! this is the MOST famous food found in Pampanga Philippines. This has been tasted by a lot of foreigners and eventually they really gave a good reaction and crave for more!. this dish is a savory meat taste. best eaten with or even main course. The pork meat is really tasty and flavorful. It is made with chopped pork, Chicken liver, onion and bell pepper topped with egg. It is served on a sizzling plate. Crunchy and on the first till the last bite!
So what are you waiting for? Come and visit Pampanga, Philippines for you to be able to taste different exotice foods that you'll surely love!