Saving Grace Saga coming to Print!
From paranormal romance author, J.R. White, the Saving Grace Saga is going to print. The long wait is over for the diehard hardcopy fans. Witch Hunt, the first book of the trilogy, will be gracing the shelves in June and Fox Hunt and Fire Hunt will follow close behind.
Follow along in the Saving Grace Saga as the witches and werewolves struggle to overcome oppression and find love along the way. The hunt starts with Rei and Aidan in Witch Hunt as a witch and werewolf discover their differences could tear them apart or bind them closer together. In Fox Hunt, two alphas, Mike and Dilly, find themselves on the run and in need of each other more than they ever dreamed. The Saga ends with Julia and Edmund, two witches on different sides of the fight, struggling to put the world to rights.
Here's what reviewers had to say:
"It's all you could need in a werewolf/witches story."  (ShootingStarReviews)
"Ms. Whites writing style draws the reader into the story."  (RomanceBookWorm)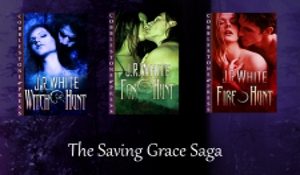 The books will be available at Cobblestone Press and Amazon.
Can't wait? You can still buy a digital copy for your eReading device.
After the bloody murder of her brother, Rei finds herself on the run from the coven that killed him. A powerful Earth witch, Rei searches for a natural well of magic to avenge her brother's death, even if it costs her life. However, standing between her and her goal is an alluring wolf.
Aidan never took the time or interest to look for his mate, but when the young witch shows up on pack hunting grounds his solitary life is turned upside down. Now, he must find a way to protect his pack and the woman that fate has handed him.
Living a nomadic lifestyle, Dilly is accustomed to being on the move, but the Federal Witch Hunters are after more than broken wands. Now they're hunting for wolf pelts, and Dilly and her family are in their sights. Dilly must choose to charge to her family's rescue or rely on a man she just met.
Leader of his werewolf bloodline, Mike travels across the country in search of a family traveling through the Southern Appalachian Mountains. Finding his mate in the headstrong Dilly, Mike is faced with the possibility of war with not only the burners but his own mate.
Julia was dedicated to the cause, even though she was marked a traitor by her own kind for becoming a Federal Witch Hunter. When her partner captures a man from her past, Julia must make a choice: Let the witch be tortured, or blow her cover and go with plan B.
All Edmund wanted was to help the magical community and escape his extremist lifestyle. Instead he was setup and captured by Witch Hunters. Cut off from his magic and held prisoner, Edmund didn't think things could get worse. Then Julia struts into his holding cell with an escape plan.