MORINGA (MALUNGGAY, in our country, the Philippines)
With the entire hullabaloo about this so called 'wonder plant, miracle tree, super plant, and other what-have-you names for this plant, did you know that Moringa or Malunggay is food for the poor in our country?  It is associated with the poor for it is easy to grow and grows anywhere.
See Also:
Just break a branch, leave it on the ground, without even planting it, it will surely grow.
With recent studies of its health benefits, one of our legislators, Sen. Loren Legarda, proposed a bill titled Malunggay Development Act in the Senate under Bill No. 104. As of July 23, 2013, it is still pending in the Committee.
As quoted, her bill states "to spur the production, processing, marketing, and distribution of this plant in suitable areas of the country in order to acquire the benefits of the exceptionally nutritious and productive but underutilized this tropical crop".
Also, there is a foundation called the Moringaling Philippines Foundation, Inc. (MPFI) which is a network organization serving the moringa supply chain in the Philippines. For more details about this foundation, here is their website, moringaling.net
This is a moringa/malunggay plant, grown in our backyard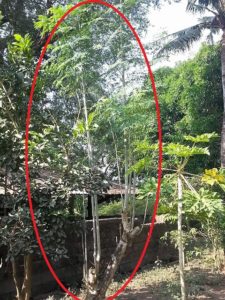 These are the leaves of a moringa plant up close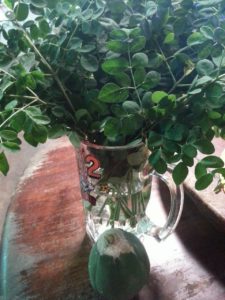 Before you cook it, you have to pluck each leaf from its twigs and it will look like these
These are the fruits of a moringa plant.
There are many health benefits that you can get from these leaves. According to MPFI study, you can have as much as seven times more Vitamin C than oranges, three times more potassium than bananas, four times more Vitamin A than carrots, two times more protein and four times more calcium than milk, for every pound of moringa leaves.
Moringa/Malunggay is rich in antioxidants that can prevent several lifestyle-related ailments such as cardiovascular diseases, heart problems, high blood pressure, and cancer.