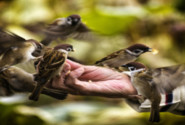 Economics is one of my favorite subjects when I was studying in college. This is one of my subjects in my commerce course, especially the freshmen. I remember that we had the thorough discussions about wants and needs, commodities, entrepreneurship, among others.

I also remember the types of commodities the producers or the entrepreneurs to offer. So they could be seen or tangible and they couldn't be seen or intangible. Thus, we come out the definition of economics is a science of providing the people of their wants and needs according to their demands.

Wants may be important or not. But needs are necessities. For without them, the consumers or the people may not live or exist. So they may be referred to foods, medicines, among others.