So, I'm just testing my limits here. This evening I stumbled across Literacy Base while looking up passive income writing sites. I have yet to find any kind of word limit for these posts, but I expect to keep looking around and find something.
A little about me… I'm an author who works from home. This gave me five wonderful years to bond with my daughter before she headed into the public school system. I started freelance writing a year after she was born to help keep the ends tied. My husband gave me a lot of wiggle room for how I'd create my income and 8 years later I've published five books and have a handful of side earners that keep me on my toes.
If you're interested in paranormal romance or interactive romance you can check out my titles: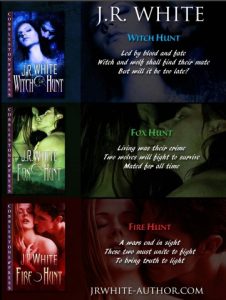 The Saving Grace Saga
After the bloody murder of her brother, Rei finds herself on the run from the coven that killed him. A powerful Earth witch, Rei searches for a natural well of magic to avenge her brother's death, even if it costs her life. However, standing between her and her goal is an alluring wolf.
Aidan never took the time or interest to look for his mate, but when the young witch shows up on pack hunting grounds his solitary life is turned upside down. Now, he must find a way to protect his pack and the woman that fate has handed him.
Living a nomadic lifestyle, Dilly is accustomed to being on the move, but the Federal Witch Hunters are after more than broken wands. Now they're hunting for wolf pelts, and Dilly and her family are in their sights. Dilly must choose to charge to her family's rescue or rely on a man she just met.
Leader of his werewolf bloodline, Mike travels across the country in search of a family traveling through the Southern Appalachian Mountains. Finding his mate in the headstrong Dilly, Mike is faced with the possibility of war with not only the burners but his own mate.
Julia was dedicated to the cause, even though she was marked a traitor by her own kind for becoming a Federal Witch Hunter. When her partner captures a man from her past, Julia must make a choice: Let the witch be tortured, or blow her cover and go with plan B.
All Edmund wanted was to help the magical community and escape his extremist lifestyle. Instead he was setup and captured by Witch Hunters. Cut off from his magic and held prisoner, Edmund didn't think things could get worse. Then Julia struts into his holding cell with an escape plan.
Lost Relic: An Interactive Romance Novel
Years of working inside a museum have taken a toll on Lillian's passion for history. Now two strangers, each a master of his field, have shown up offering her a chance to rekindle her love. The lost temple of the Golden King is hidden just beyond the horizon of the Amazon and now Lillian has the chance to be a part of its discovery. Will she follow the prestigious historian or the roguish treasure hunter? You decide.
Just Beyond Daybreak – a paranormal romance novella
When the source of her family's magical energy and life force is stolen, Meredith Blackburn is left with little choice, but to search out the best magical tracker she knows. Unfortunately Malcolm Blackwood is more than just a tracker, he is also a man who captivates Meredith's thoughts.
She strolled into Malcolm's life with a job that he didn't want, but instantly he regretted turning her away. Now, with his own family relics in danger, Malcolm finds himself unable to leave Meredith behind.
Can they save the Blackburn bloodline? Or will family ties tear them apart?
All of my titles are available on Amazon. Also, I plan on exploring Literacy Base more as the days go by.
Peace and Love1