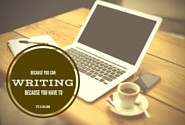 Writing for the Web
Trying this again!
A place to discuss writing online – blogging, content writing, paid to write sites, etc. Come talk about the art of writing for the web, about how web writing differs from writing for print, or about great resources for web writers! Topics could include related concepts like SEO, promotion and social media, and graphics for your posts.
Has Anyone Used Skyword?
Author
Posts

Skyword came up in some suggested pages today. Their web site looks pretty slick, but I couldn't really figure out much about them. Does anyone know this site, even just by reputation?

@ruby3881 This is the first time I heard about Skyword, from you. It sounds interesting, though I have no idea what it is really about. I have checked out from wikipedia, there are 4,000 writers and videographers working as Skyword's freelance content creators. It sounds like some professional writers can actually produce contents for Skyword. Are you checking out for this opportunity as well? Another similar site is Contently, perhaps you can check it out too.

I just read that Skyword was once the parent company of Gather.com.

Thank you Ruby for sharing this Skyword. Is this a site or the same as Skype? This is my first time to hear about Skyword.

I am so impressed of the bloggers here for you have many discoveries and glad you also shared here. Nice people, with nice heart.Thanks guys.

I have just visited its site. And this is what I have read:

Skyword makes people do things in the extraordinary ways through marketing their ideas. Thus, Skyword was created sometime in 2010 to help someone who needs something like finding an answer to a question, getting the solution to a problem, or keeping up with their ambition in life.

Skyword is there for everyone to discover, to inspire, to connect, to create, to reach and to elevate thoughts on marketing. That is how broad, I understand Skyword based on their site information.

From everything that I have read on the other comments this site sounds like a really good one for writers. I wonder if the pay is good on there or not. I hope you have good luck there if you try it out.

@lovern This is why I love sites like LiteracyBase! The spirit of sharing and the resourcefulness of fellow users can really help one to learn about new opportunities and to become a better writer.

@nakitakona13 They really seem slick and professional, don't they? But I couldn't find anything on their site about who can apply to be a member (i.e. what nationality) or how payment works.

@morgoodie It's encouraging if you are seeing good feedback about them! I may just Google the info I'd like to have, and see if someone has explained it somewhere 🙂

That is true @ruby3881, many interact and share our posts, very active and awesome people who love writing like us.Writing does not only mean to earn, but also o gain friends.

@nakitakona13, nice you already visited the site Skyword,so many sites this time, but only Blogjob I like most.It pays right and payment right.

Haven't heard about Skyword, but from the name itself it means something about Sky is the limit. I haven't tried to research this one but this is what I perceive on the site. However, when I read on the responses above, it seems it is different, so I am wrong.

I doubt if sky word accepts applicants from my country.There are many sites I have come across and learned from the, they are are still on the process to include Ph in their program.How soon will it be?

Never heard of Skyword before.

From what I can see, it is a platform for writers and copywriters to freelance with reputable companies.

I have not come across anyone who has mentioned it.

@lovern It may be a long time before the Philippines are added to many writing sites. There are a number of issues that affect countries in Asia. Often it is initially because of problems processing payments, which is why some sites say they will only pay if the user has a verified international PayPal account. There have also been issues with abuse from some unscrupulous people in your country. Unfortunately, these cheaters have ruined things for all your countrymen and women 🙁

Yes, Skyword has got lots of good reading material. But there's no Apply-Here-To-Write-and-get-paid button. I think Skyword buys articles/contents from content marketing sites. Just my guess.
Viewing 14 posts - 1 through 14 (of 14 total)
You must be logged in to reply to this topic.